358181
Sneaker News Talks Nike Skateboarding with Eric Koston and Stefan Janoski
New York City is a mecca for many things. Basketball – check. Cultural diversity – for centuries. Art and music – you'll find it everywhere. Skating – darn right. Over the last decade, Nike Skateboarding has enjoyed a meteoric rise from one of the most followed 'cult' sectors of the Swoosh to a rock-solid roster of Action Sports superstars, but the 'how they got there' hasn't been much explored.
Nike Skateboarding kicked off a day-long exploration of the NYC skating scene by way of personal tours guided by the Nike Skateboarding team, giving the media an unforeseen insight into the daily routines of the skating stars while revealing some of their beginnings into the sport and how they came to join forces with Nike. We started at the Wythe Hotel in Williamsburg, Brooklyn, took in a show at the Coleman Skate Park under the Manhattan Bridge, and finished off the day with a sick showcase and Nike Eric Koston 2 unveiling in the Chinatown/Financial District border. Continue on for a recap of the day's events, a chat with Stefan Janoski, and an interview with Eric Koston and Koston 2 designer Shawn Carboy below.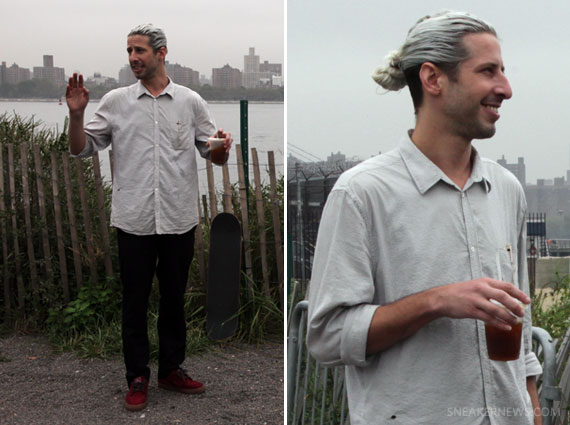 To kick off this day-long exploration of Nike Skateboarding in a veritable mecca of the street-based sport, Brooklyn resident Stefan Janoski led us around his favorite spots around Williamsburg. During this trek, we picked up some coffee (Janoski and his pals had one too many margaritas the night before) and hit up his favorite book-stores, skate-shops, music emporiums, etc.. We also picked his brain – here's what he had to say:
Sneaker News: Stefan, you're in Brooklyn, but where are you originally from?
Stefan Janoski: California! Vacaville, which is a small town right outside of Sacramento.
SN: Oh, so you moved here for skating?
SJ: (With a big smile on his face) Nope, followed a girl!
SN: Hope that worked out for ya.
SJ: It has!
SN: So, Nike and Stefan Janoski. How'd that happen?
SJ: Before Nike, I used to ride for etnies. But there was a point where I wasn't with them anymore and I was skating in Dunks and Air Jordan 1s. Nike was sorta like the brand all skaters skated in when they weren't with a certain skate-shoe brand. I've always loved Dunks and at the time, my friend Omar (Salazer) was with Nike at the time, and he introduced me to Kevin (Imamura), and from there the pieces just sort of fell into place.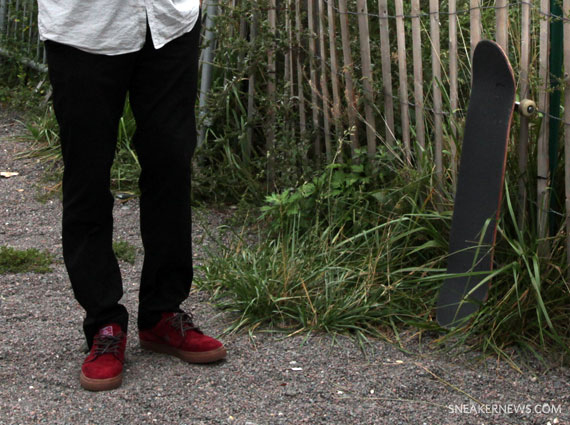 SN: Gotta say though, the Janoski is a beast right now. It was one of our Top 30 sneakers of 2009 and three years later it's still one of Nike SB's most popular shoes.
SJ: I know! It's crazy.
SN: The Nike Janoski looks nothing like the 'skate shoe' we've come to know – how'd the design come about?
SJ: When we first start with the design, I just recalled the shoes I loved to skate in – Vans, Chuck Taylors, Dunks – and I started with the basic design of a Sperry Top-sider. I told the designers that I wanted thin uppers – I wanted to feel pain! I wanted my ankle to be exposed! They (the designers) were shocked, but I skated like that my whole life. The sole is thinner than most and the upper is thin, and it has style of a Top-side boat shoe that I always liked.
SN: That's the reason why it's so popular – you've got skaters skating in it and sneaker heads rocking it. That's been a tough feat to accomplish with skate shoes.
SJ: For me, I had a skate shoe, and a 'chill' shoe. I never wanted to wear my 'skate' shoe when I was hanging out with friends or going out to dinner because shoes that have been skated in for hours don't look great. But with the design of my shoe, it blurs that line and I can wear my skate shoe to 'chill' and vice versa. I mean, even the Nike SB guys wear my shoe, and that's crazy – I see Eric Koston wear it, and dude was one of my idols, and even though we're 'colleagues', I still call him 'Eric Koston' at times instead of by his first name.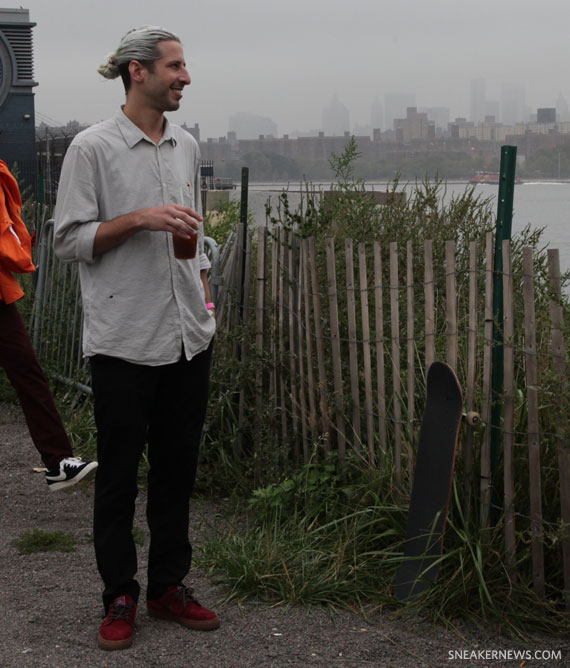 SN: In three years since Janoski was born, we haven't even heard as much as a peep regarding a Janoski 2. Any news on a sequel?
SJ: Right now, we've got nothing. The shoe's been such a hit and it's like Nike did such an awesome job with it that we're looking to expand rather…we've got new materials, that mid-top shoe, and now the Janoski, so there's nothing in the immediate horizon regarding a sequel because Nike wants to do more with the first.
SN: If it ain't broke, don't fix it, right?
SJ: Exactly.
SN: There's so much more potential with the Janoski in terms of materials and what-not and some of the stuff that came out, like the Brogue Mid, that Camo pair that just came out…
SJ: Yeah, man, for sure. There are so many more materials to play with and even the Mid, which is really popular, and even the strap shoe – I love velcro straps, but everyone else seems to hate them! You can skate easily, the shoe fits perfectly, and your foot is always locked down. Guess people just didn't like them.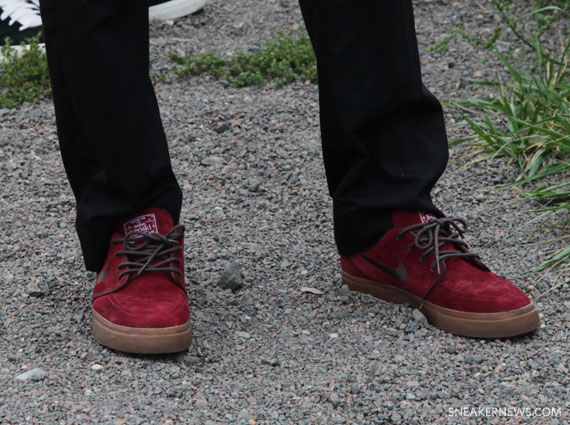 SN: One thing that people are really excited about – that floral print pair that's supposed to come out next year.
SJ: YES. Those are crazy. I don't think Nike was too happy about those leaking out (laughs) but it's definitely getting me more excited. Even the Janoski iD – the materials and colors on those things are so awesome. Just look at these (points to his shoes) and the suede is just perfect and the solid gum sole is just sick. Nike told me the Janoski was the number-one most demanded shoe to be on Nike iD.
SN: Not surprising, considering how many people love that shoe!
Stefan Janoski resides in Brooklyn, NY. You can catch him at Cafe Colette grabbing iced coffee, meditating at the East River Park, buying used sci-fi fiction at Book Thug Nation, and admiring the instruments at Main Drag Music. He skates, too.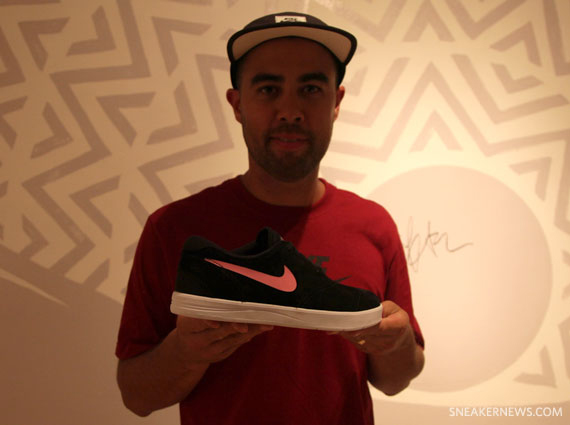 Sneaker News: The "2" for signature shoes – the Air Jordan, the LeBron, the Penny, the Kobe – has been typically been the most scrutinized shoe, and the success of the Koston 1 makes the task of building something even better is that much more difficult. What about the Koston 2 separates it from the Koston 1?
Eric Koston: Think of a Porsche – like a 911 compared to a Carrera – you see the similarities, but also the evolution of the design from one to another. You see the subtle changes, like one is more aerodynamic and such, but you know for a fact what car it is. When we begin a new signature, we look at it from beginning to end. We look at the Koston 1 and we build upon it – we see what's good with it and what needs to be improved. The Koston 1 served its own purpose for performance, but also laying the groundwork for the entire line.
Shawn Carboy: We look at the shoe like it was a car – we look at the guts of it and see what made it so great, but we also have to inspect what wasn't so great. The Koston 1 didn't breathe too well (Koston nods), so we slimmed down the sock-liner, and we also made the insole a bit firmer.
SN: I think everyone remembers that video when you took Lunar insole out and basically bent the shoe in half.
EK: Yeah! And you can actually do that with this one too, but the Lunar insole on the Koston 2 is just a bit firmer.
SC: (Removes insole) Check out how hard that is – it's much firmer than the Koston 1. But the lightweight shell is still there, only we made it much more breathable.
SN: So just looked at skate shoes in general, when we look back to the first Koston with eS and Airwalks of the 90's and compare them to now, clearly the shoes have slimmed down so much more to what the Koston/P-Rod/Janoski is. Is that a reflection of the evolution of skating as a sport, or is that something Nike has pioneered on its own?
SC: Funny thing is, back then, nobody really knew how to make skate shoes. Nike was doing it…forever, so they had the performance aspect of it down, but they were definitely learning as they were going.
EK: For my first show, I wanted it small, I wanted everything slimmed down instead of having all these extra pieces and bulk. Back then, those skate shoes weren't all about performance and technology, but about the 'wow' factor because skate shoes looked so distinct. But when were designed the first shoe, we realized, sh**, we don't need all of this extra stuff.
SC: Going back to the 90's, you see skaters wearing Dunks, Converse One Stars, adidas Shell-toes, and they started to make the tongues puffy because their feet would start hurting. From there, shoes just got bulkier and bulkier because these brands just thought that's what was needed, and it's really not. Right now, it's going back to the roots of those shoes – that more slimmed down approach – because if you're gonna get chopped at the foot, it's gonna hurt no matter what!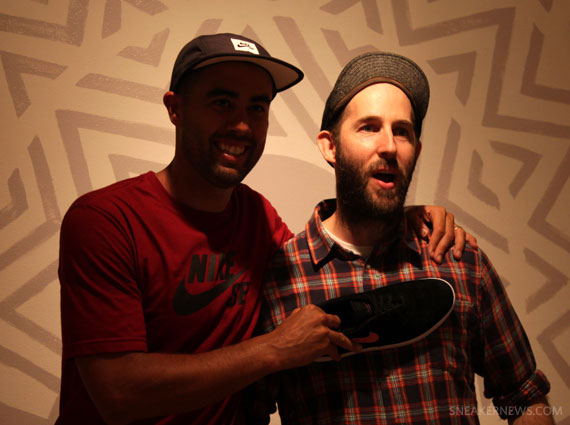 SN: So it's almost like a preference now, like the Nike Salazar, which has that option of removing the extra padding on the tongue.
EK: Right, if people want that feel, they can have it, but my shoes are stripped down to the bare essentials.
SN: Skate shoes have always been appealing to just one demographic, but the Koston covers three – skating, sneaker head, and lifestyle footwear. Is that approach of covering all grounds something you were striving for?
SC: It's all about authenticity. The Dunk – everyone loved it because even though it was a basketball shoe, skaters loved it. So it's not really about pleasing the masses, but about making it the best shoe for this guy (points at Eric) and letting it make its own statement. It's about what makes it perfect for Eric first and foremost, and if it's right for Nike and authentic, and is it right for skaters – if you root in those three things, then you have a great shoe.
EK: And you know what, nobody can do what Nike does. Nike's thing is making amazing sneakers and no other brand's been able to do it. Like my shoes in the past, they were good, but not anything close to the research and engineering that goes into a Nike shoe. Like even that Kobe x Koston shoe, it had the snake-skin upper, but it was still authentic because I love the Lakers and it was just really cool to do.
SC: Like even this shoe (the Koston 2) was built around the golf style because that's what Eric's really into and he wanted to do something he connects with.
SN: LeBron, Tiger, MJ, Kobe, Federer, Koston. Just being in that super-exclusive fraternity of the greatest athletes in the world, is there that motivation to step your game and be at your best, as an athlete and as a bearer of a signature Nike shoe?
EK: Yeah definitely! I mean, with your own shoe, you definitely have to hold your own, but we're Skateboarding, we're not Basketball or Golf, so we definitely do our own thing and do the best we can for Nike Skateboarding.
SC: Another great thing is that we have all these great established sports, and some parts of those sports influence us, but it works both ways. What's great is that the Lunar SwingTip (a recently released golf shoe) was actually derived from Eric's idea of a golf-shoe for the Koston 2. So now, there's definite camaraderie between the sports and we play off of one another.
Thanks to Eric Koston and Nike Skateboarding footwear designer Shawn Carboy!