373381
Sneaker News Weekly Rewind: 12/1 – 12/7
Some major news to start of the month of December, with the media launch of the Air Jordan XX8 going down on Monday and Russell Westbrook wearing them against the Nets the next night.  That was followed by a one-on-one interview with KD designer Leo Chang, a personal Nike iD session with Stefan Janoski, and a announcement of the Li-Ning fashion line. A detailed look at the Kobe 8 'Christmas' as well as a peek at the Kobe 8 iD made some headlines, while the Air Jordan 1 'Knicks' revealed a Melo-inspired detail on the insole. The LeBron 9 Low continues to make noise with the 'War Vet' sample, and the Lunar Force 1 gears up for a debut on Monday with the Medicom Toy collaborations.
adidas made a major splash with the sick Allegra collaborations, and Ronnie Fieg's denim GL3s by Asics got a confirmed release date. A first look at the Black/Volt Zoom Revis surfaced, as did a third colorway from Stussy's Patchwork set of Pro Leathers. Dominique Wilkins got a special tribute with a re-issue of some OG Twilight Zone colorways, and some new Primeknits from adidas began to hit stores. A look at New Balance's footwear for January 2013 got previewed, and CLOT teams up with Vans for a sick Tribesman Pack. Customs makes a big splash as LeBron James himself got blown away by one of Mache Customs' work, while a 'Python' Air Jordan IV impressed the most fastidious of readers. With the AF1-XXX celebration coming to an end, Sneaker News took one last look at five Air Force 1 Low classics for this week's Classics Revisited. Visit the entire Sneaker News Weekly Rewind below!
THIS WEEK IN AIR JORDAN XX8 NEWS
Jordan Brand unveils the next Air Jordan in grand fashion with a media event on Monday and an official on-court debut by Russell Westbrook.
CONTINUE TO:
Air Jordan XX8 – Officially Unveiled
Air Jordan XX8
Air Jordan 28 Unzipped
Air Jordan XX8 "Dare to Fly" Event Recap
Air Jordan XX8 – Design Breakdown
Air Jordan XX8 "All-Star"
Air Jordan XX8 "Joker"
—
THIS WEEK IN AIR JORDAN NEWS
Sneaker News brought you a look at the 'Black' Collection, while a slew of other upcoming 2013 releases like the Squadron Blue XIII and Air Jordan V grab our attention.
CONTINUE TO:

—
THIS WEEK IN LEBRON NEWS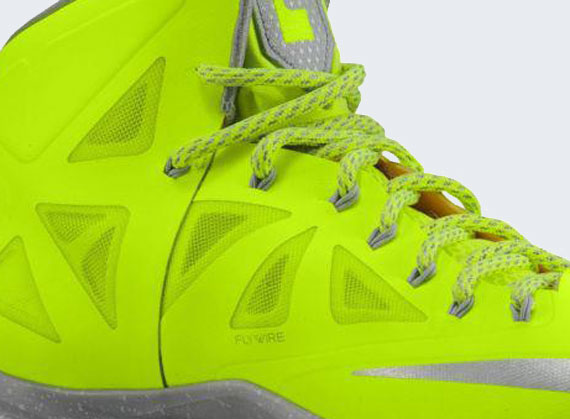 A second 'Dunkman' colorway? No, just a tonal-volt LeBron X. Don't forget the unreleased Camo and Arnold Palmer-inspired LeBron 9 Lows.
CONTINUE TO:
Nike LeBron X "Cork" Packaging
Nike LeBron X "Neon"
"Prism" Nike LeBron X
Nike LeBron 9 Low "War Vet"
Nike LeBron 9 Low "Camo"
"LeBronold Palmer" Nike LeBron 9 Low
Nike Air Max 2011 – LeBron James White/Red PE
—
THIS WEEK IN KD NEWS
Sneaker News sits down with designer Leo Chang for some insight on the KD V, while a new Grey/Black/Red colorway surfaces on the forums.
CONTINUE TO:
Nike Designer Leo Chang Gives the Inside Scoop on the KD V
Nike KD V "Splatter"
Nike KD V – Grey – Black – Red
–
THIS WEEK IN KOBE NEWS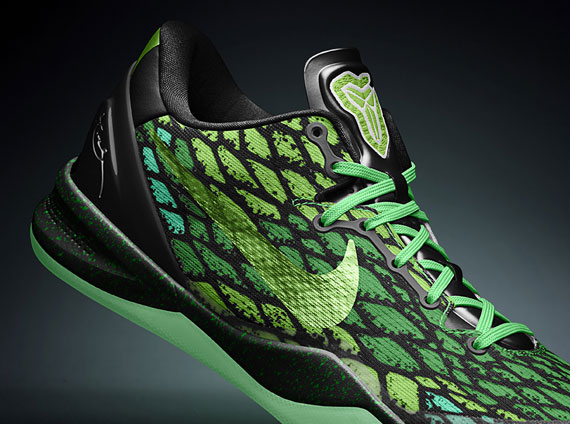 After last week's unveiling of the Kobe 8, Nike Basketball is ready to launch the iD with a nice preview of available options.
CONTINUE TO:
Nike Kobe 8 "Christmas"
Nike Kobe 8 "Python"
Nike Kobe 8 iD
Nike Kobe 8 iD – Preview
–
THIS WEEK IN NBA FEET
The OKC duet whip out some notable kicks, but a plenty more went down in this week's NBA Feet.
CONTINUE TO:

–
THIS WEEK IN CELEBRITY FEET
Lil' Wayne puts the Supra aside, Melo goes 'Ducks', and a true OG in the game whips out one of the rarest PEs we've ever seen.
CONTINUE TO:

—
THIS WEEK IN AIR FORCE 1 NEWS
We're nearing the end of the AF1-XXX Collection, but the headlines just don't stop!
CONTINUE TO:
Medicom Bearbrick x Nike Lunar Force 1
Nike Air Force 1 Foamposite Low "Black Snake"
Nike Air Force 1 XXX December Collection – Release Date
Nike Air Force 1 High – Rasheed Wallace Knicks Home PE
Nike Air Force 1 Premium Duckboot iD
Nike Air Force 1 Bespoke by Luis Valle
Nike Air Force 1 Mid "Red Zebra"
Nike Air Force 1 Downtown "Zebra"
Nike Air Force 1 Foamposite Low "Safety Orange"
—
THIS WEEK IN NIKE SB NEWS
More details on the 'Christmas' SB Dunk High, and Stefan Janoski helps us pick out a Janoski iD colorway.
CONTINUE TO:

"Krampus" Nike SB Dunk High
Nike SB Dunk High "Krampus" – Release Date
Nike SB Fall 2013 Preview
Sneaker News and Stefan Janoski Design a Nike Janoski iD
—
RONNIE FIEG x ASICS GEL LYTE III "SELVEDGE DENIM"
Another last-minute launch of a Ronnie Fieg-designed Gel Lyte III. You dig?
CONTINUE TO:

—
REEBOK PUMP TWILIGHT ZONE "DOMINIQUE WILKINS PACK"
One of Reebok's most significant athletes gets some shine with this re-issue of Pump classics.
CONTINUE TO:

–
THIS WEEK IN DARRELLE REVIS NEWS
More details on the Zoom Revis surface, while release info on a classic Trainer shoe grabs our attention.
CONTINUE TO:
–
STUSSY NYC x CONVERSE FIRST STRING PRO LEATHER "CAMO"
Stussy and Converse have one more trick up their sleeves with the Pro Leather.
CONTINUE TO:
Stussy NYC x Converse First String Pro Leather "Camo"
—
THIS WEEK IN ADIDAS NEWS
The cult-classic Allegra and Tech Super make a comeback – certainly a much-needed umph from adidas Originals.
CONTINUE TO:

—
THIS WEEK IN NEW BALANCE NEWS
More N-branded headlines in the form of two collaborations and a string of 2013 releases make some noise.
CONTINUE TO:
—
THIS WEEK IN VANS NEWS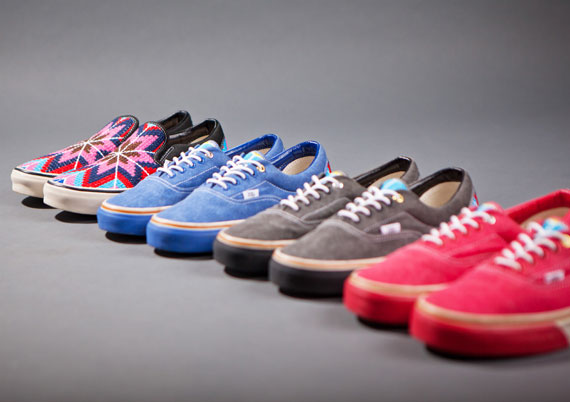 Vans enjoyed one of its most successful releases of the year, with headlines like those listed below being a big reason why.
CONTINUE TO:
CLOT x Vans "Tribesman Pack"
Vans Sk8-Hi "American Flag" – Available
Vans Classics "Aged Leather" Collection
Vans OTW Bedford – Holiday 2012 Colorways
Vans Syndicate Cab Lite – Gun Metal – Sulphur

—
THIS WEEK IN CUSTOM SNEAKERS
LeBron James takes note of a Mache custom, the Bred IV gets a luxurious upgrade, and the Air Jordan III meets Space Jam in this week of custom kicks.
CONTINUE TO:

—
THIS WEEK IN AIR JORDAN OG'S & PE'S
More Air Jordan artifacts make their way to our front page. Is the candy-green Air Jordan XI worth the asking price?
CONTINUE TO:
Air Jordan 1 – OG Black-Toe on eBay
Nike Air Ship 1984 OG
Air Jordan VIII – Michael Jordan Autographed Game-Worn OG
Air Jordan XII – Ray Allen Celtics Away PE
Air Jordan XI "Rainbow Pack"
"Rainbow Pack" Air Jordan XIII
—
CLASSICS REVISITED: AIR FORCE 1 LOW WEEK – PART 3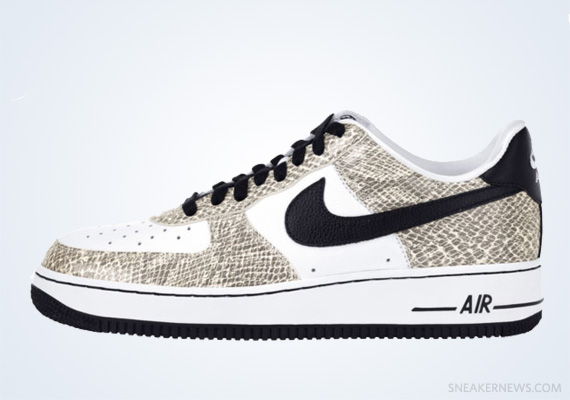 With 2012 coming to a close, we'll take one more look at the Air Force 1 Low. Peep Part 3 of Classics Revisited: Nike Air Force 1 Low.
CONTINUE TO: