456799
A Complete History of Supreme x Nike Collaborations
There aren't many brands in the world able to regularly send their customers into a frenzy quite like Supreme. Founded in 1994, the world famous New York City skate shop has had an unparalleled run and left pretty much all their peers in the rearview when it comes to building and maintaining a brand and supplying a never-ending stream of coveted products. Now in a class all by themselves, Supreme has cultivated a devoted following and well-deserved reputation by carefully protecting their mystique and brand integrity at all times.
In many ways, Supreme is to independent retailers what Apple or Nike are to their respective fields. There aren't many brands you can name that attract lines around the block any time they release a new product, but Supreme does just that on a weekly basis with every Thursday's new batch of items. So as you'd imagine, when two brands with that kind of rare selling power join forces for a collaboration, it's going to make some serious noise each and every time.
Since 2002, the dream team pairing of Supreme and Nike has come together on an almost annual basis to bring the sneaker world some of the most sought-after footwear collaborations in history. Starting with their legendary Dunk Lows, Supreme has put their unique touch on a wide assortment of Nike models in the years that have followed. In the beginning, all of their Nike collabs
naturally came through the SB category, but the skateshop turned powerhouse lifestyle label known as Supreme has expanded its reach so far beyond just the skate genre over the years that it made perfect sense for them to transition over to Nike Sportswear silhouettes as well.
Their first non-SB offering came last year by way of a three-pack of Air Force 1 Lows and the playing field now seems wide open for Supreme to get their hands on any Nike silhouette they want, as seen with their latest collab with the Swoosh. In a complete departure from the skate and retro styles we've seen them work with in the past, Supreme has put their special touches on the Flyknit Lunar 1+, a performance runner that uses Nike's most buzzed-about new construction technology.
Marking their twelfth collaborative project with Nike, the Supreme Flyknits released today and were predictably met with snaking lines of hungry consumers anxiously waiting outside their shops in NYC, LA and London. In honor of the big day, we thought we'd take a look back at the history of the partnership with a complete retrospective on all the great Supreme x Nike releases that have come our way in the last 11 years. If you're not currently out on the street waiting in line for Flyknits, continue on for the full rundown – otherwise, you can catch up later and best of luck to all.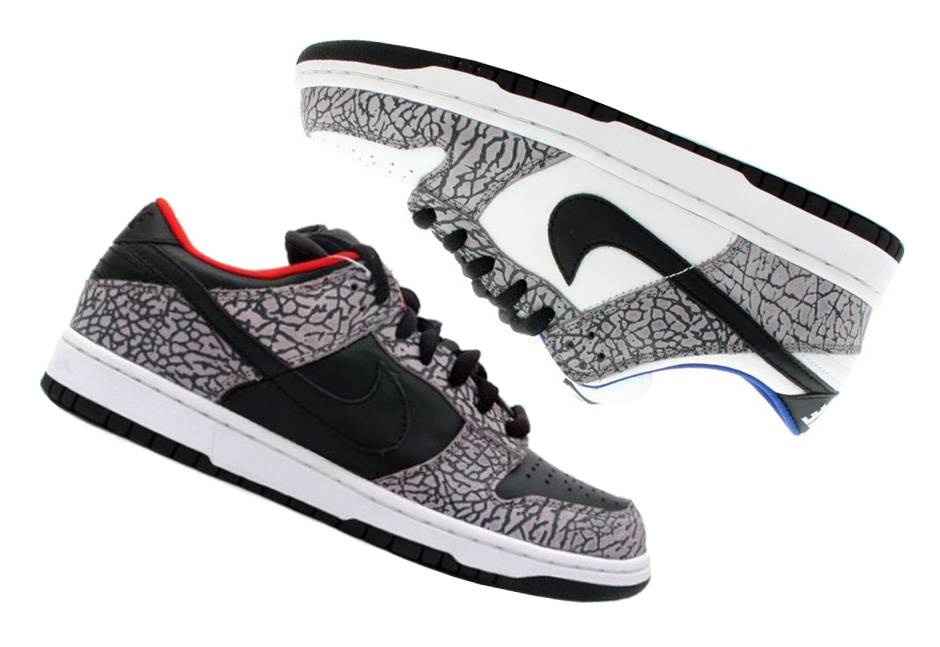 SUPREME x NIKE SB DUNK LOW PRO (2002)
Widely regarded as one of the greatest collaborative sneaker releases of all-time, Supreme's dynamic duo of Dunk Lows is hard to top in terms of impact on the sneaker culture. Not only did it bring elephant print back into our lives, but it also helped lay the foundation for the SB Dunk explosion that would soon follow. At the time, the Supreme Dunk Lows raised the bar for what a sneaker collaboration could and should be and further cemented Supreme's status as one of the most influential creative forces in the market.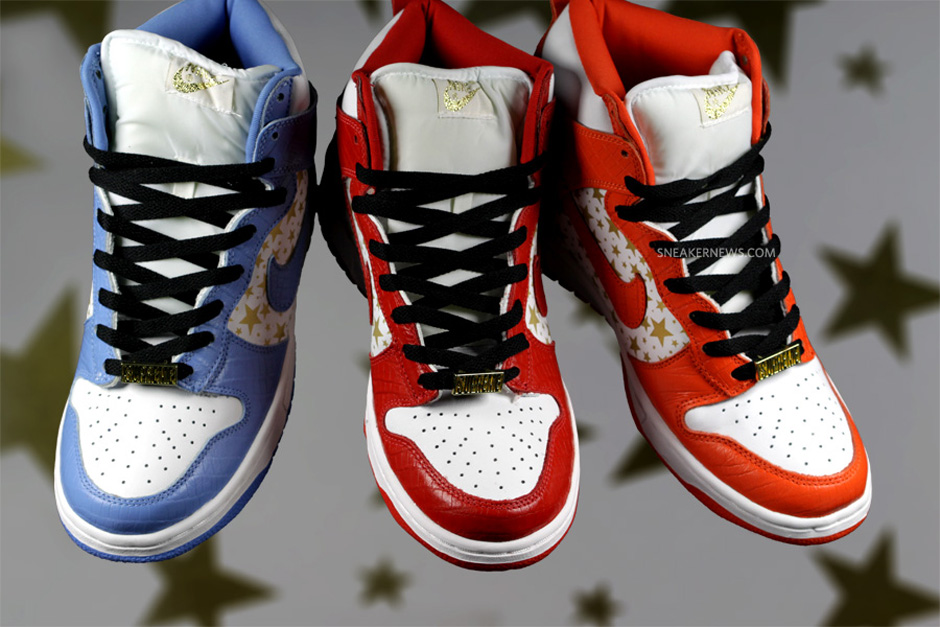 SUPREME x NIKE SB DUNK HIGH PRO (2003)
While they may get a bit overshadowed by the infamous Lows, Supreme's star-spattered Dunk High threesome still carries plenty of clout with sneaker collectors. Taking some timeless design cues from Nike's original "Be True To Your School" colorways, Supreme spices up the look with sections of faux crocodile skin, gold stars on the midpanels, and of course, the killer block letter Supreme lace dubraes.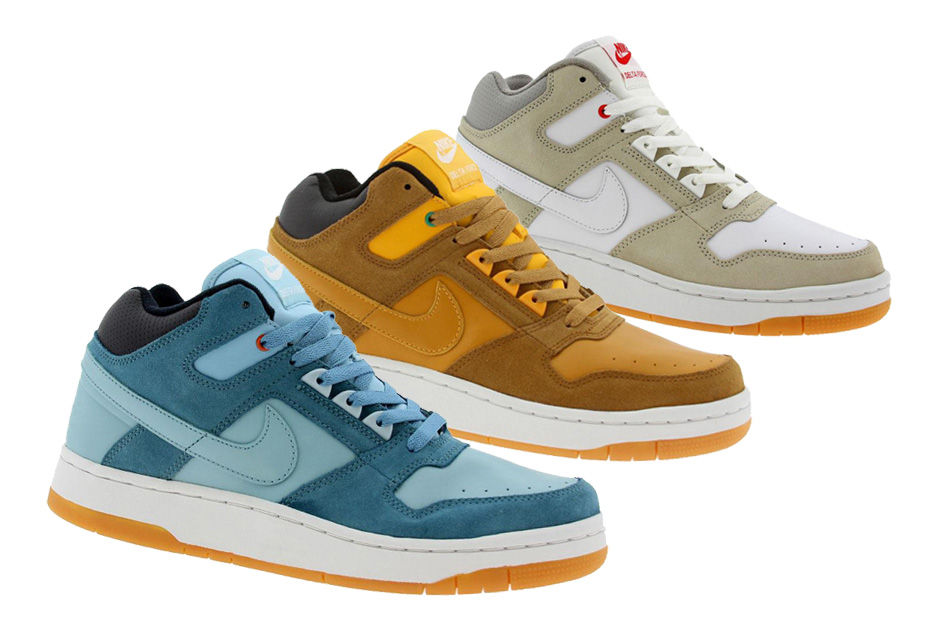 SUPREME x NIKE SB DELTA FORCE 3/4  (2004)
After the success of the Dunk re-purposing, Nike SB played around with transitioning some other classic Nike models into the skate category. The SB incarnation of the Delta Force never really caught on, but before it faded away, it got a brief moment in the spotlight via the two-toned, gum-bottomed Supreme three-pack.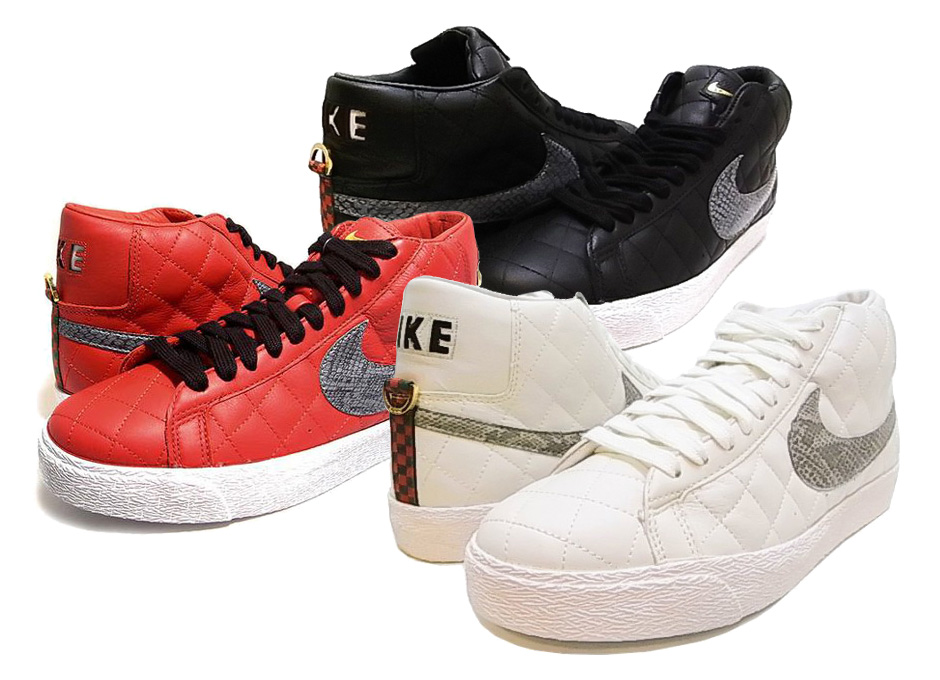 SUPREME x NIKE SB BLAZER (2006)
Most of Supreme's Nike collabs have been warmly welcomed and fondly remembered, but along with the first round of Dunk Highs and Lows, their trio of Blazers sit at the head of the table as the most revered. Thanks to a sublime combination of premium quilted leather, snakeskin Swooshes, and last but not least, the Gucci-inspired heel strips, the Supreme SB Blazers remain one of the most glowing examples of the brand's impeccable design aesthetic.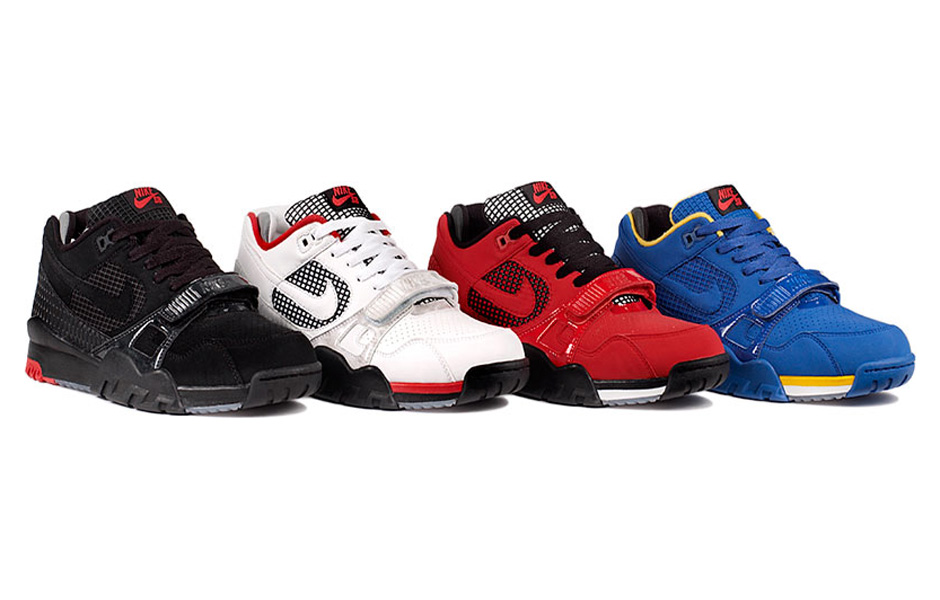 SUPREME x NIKE SB TRAINER TW 2 (2007)
Like the Delta Force, the Air Trainer II was also resurrected from the Nike vaults for a mid 2000's SB revamp. The model also suffered a relatively short stint in circulation, but not before Supreme got their hands on it for a tasty quartet of colorways featuring nubuck uppers, Air Jordan IV-inspired netting and Supreme branding printed across the bottom of the outsoles.
SUPREME x NIKE SB BRUIN (2009)
Supreme has always had a knack for taking things that people aren't paying attention to and making them cool. The classic Bruin's second life as a skate shoe was fairly uneventful until a four-shoe Supreme pack came along with metallic Swooshes and the brand's braggadocious "WORLD FAMOUS" claim printed on the heels.
SUPREME x NIKE SB '94 (2010)
After putting their unique spin on a diverse cross-section of Nike SB models, Supreme upped the ante in 2010 by introducing their very own exclusively designed model, the SB '94. Named for the year Supreme was founded, the SB '94 is a progressive blend of new and old. Its vintage basketball-inspired silhouette pays homage to the early days of b-ball sneakers being adopted for skateboarding use, but the '94 updates the classic look with some contemporary tech touches like the Foamposite heel cup.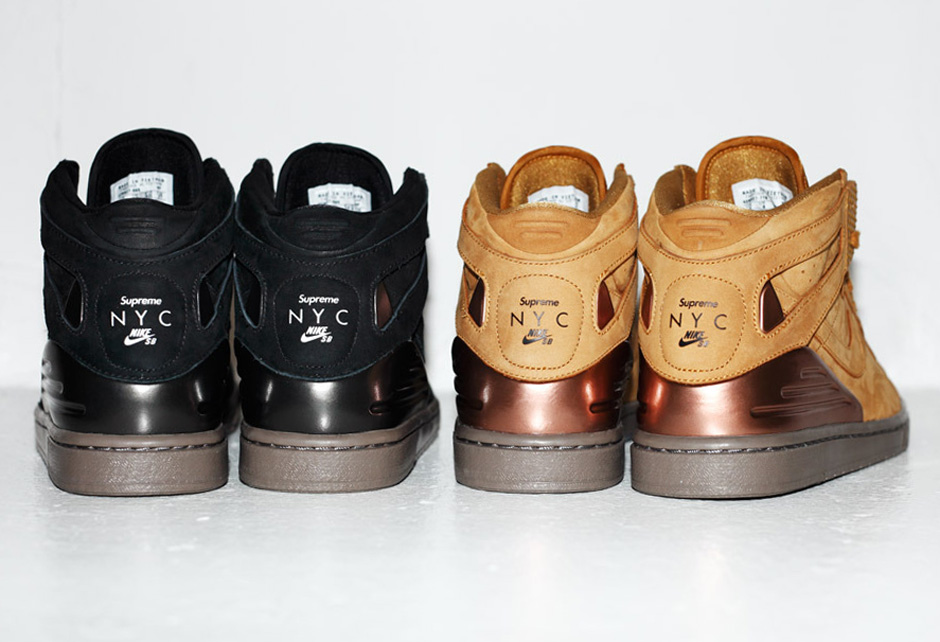 SUPREME x NIKE SB '94 (2011)
The SB '94 didn't exactly take the sneaker world by storm. In general, opinions on the shoe were fairly mixed from one person to the next, but as with most Supreme products, there will always be devoted fans of the brand to help them sell out upon arrival. A year after the initial release, Supreme brought us a second batch of colorways, this time giving their own personal silhouette a more lifestyle look in wheat and all black.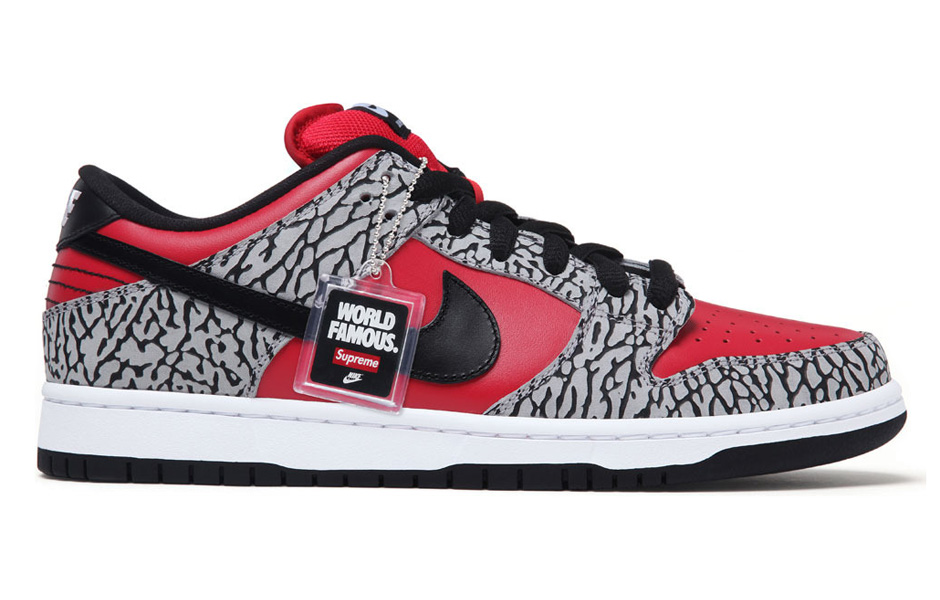 SUPREME x NIKE SB DUNK LOW PRO (2012)
Ten years after their original elephant print Dunks changed the game forever, Supreme revisited the theme with an anniversary edition of sorts. Their 2012 Dunk Low redux stuck to the same general blueprint as its predecessors, but this time adding some extra color pop by way of the red leather underlay and tongue.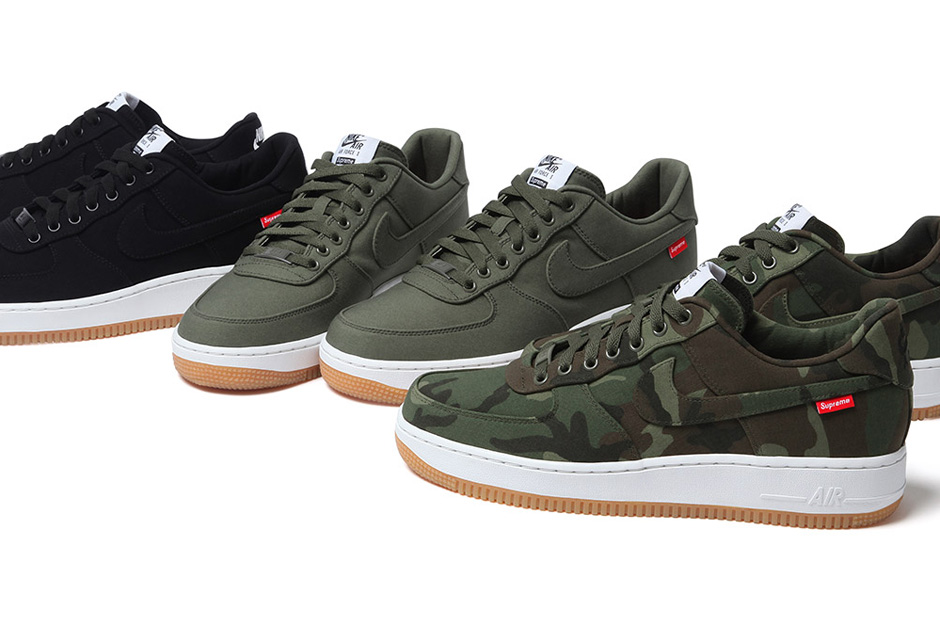 SUPREME x NIKE AIR FORCE 1 (2012)
Supreme's Air Force 1 pack marked a significant milestone on the timeline of the brand's ongoing partnerships with Nike as it was their first collaborative footwear project to feature a non-SB shoe. Bridging the skate and lifestyle markets is nothing new for Supreme, so the three-shoe pack felt like a perfect fit when it hit the scene in late 2012, equipped with uppers constructed from the super-durable, water resistant material known as NYCO.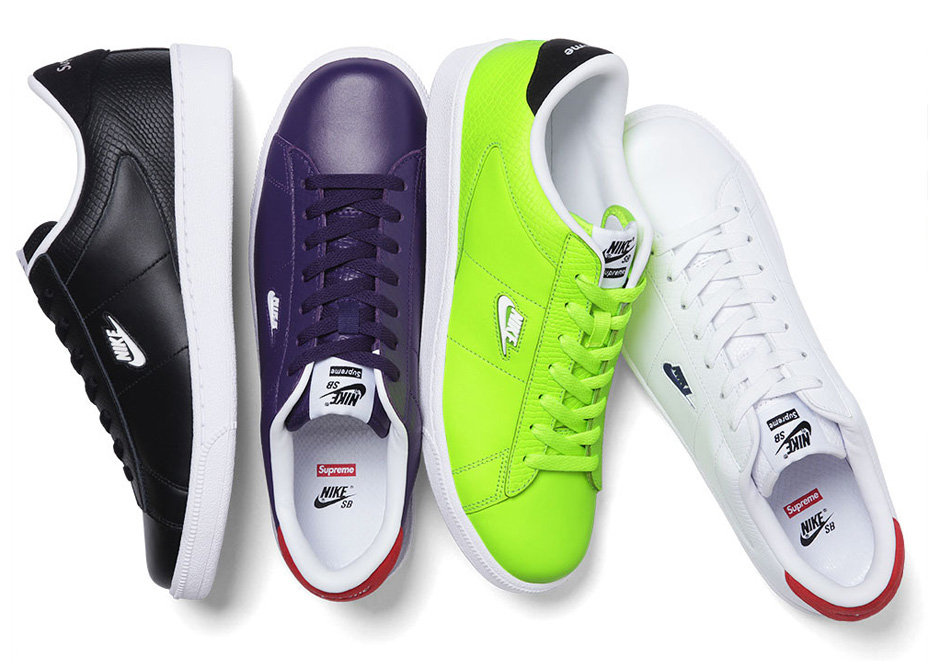 SUPREME x NIKE SB TENNIS CLASSIC (2013)
Similar to the Bruins, the Tennis Classic is not generally a model that your typical sneakerhead is clamoring for, but its timeless look and subtle simplicity made it an easily justifiable addition to any collection once Supreme's box logo got slapped onto four different colorways this past summer – classic black and white leather, and then volt and purple for a slightly louder statement – each featuring sections of snake-embossed leather on the heel, tongue, and even the footbeds.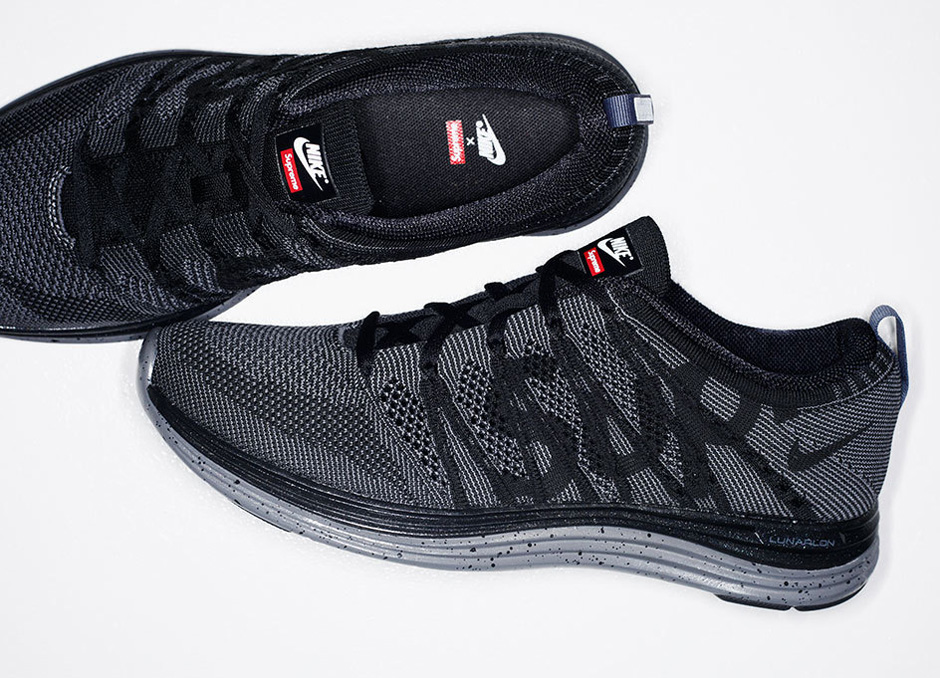 SUPREME x NIKE LUNAR 1+ (2013)
The latest addition to the Supreme x Nike family is another bold departure outside of the skate-shoe realm, this time taking on a silhouette that utilizes one of Nike's most recent innovations. Supreme's twist on the Flyknit Lunar 1+ doesn't stray too far from what we're used to seeing from the model, but still includes some easy-to-spot personalizations like the box logo on the tongue and the first three letters of the brand's name actually stitched into the Flyknit pattern on the side of the shoe.