We're in the middle of trying to whittle down a field of 32 Nike LeBron sneakers to a single greatest pair in the line via our Sneaker News LeBron Madness bracket. That group features the greatest of retail releases for LeBron's line pulled from the past ten plus years, from the Nike Zoom Generation that brought him into the league all the way up to this year's LeBron 11. But, with the LeBron line, the unreleased samples, player exclusives, and the like, are almost as big a part of the equation.
With that, we're filling in the gaps for each of LeBron James' signature entries. James is without a doubt the most prominent of signature athletes in the post-millennial era – an era that's lent itself to more and more sneaker releases for every silhouette out there. Thus, there are way more unreleased and player exclusive pairs floating around than there were for say a Jordan during his reign. Gathered here are those hits (Limited to one each for each silhouette), those pairs that at times fall through the cracks, the ones that got away and continue to fetch absurd prices on the secondary market.
Nike Air Zoom Generation "Gloria"
Before there was "Aunt Pearl" there was Gloria. As a single mother, Gloria Marie James was an important figure in LeBron's life. It was only right then that his first signature sneaker pay tribute to Mama James with this pink and white version.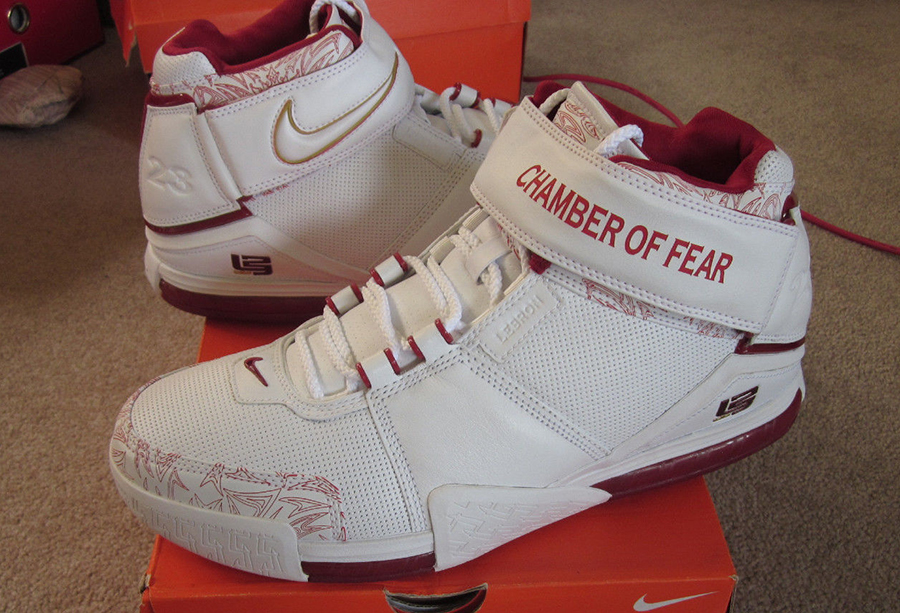 Nike LeBron 2 "Chamber of Fear"
At around the time of the rollout for the Nike Zoom LeBron II, Nike launched the "Chamber of Fear" campaign, which pitted LeBron against various inner obstacles like Hype, Temptation, and Self-Doubt. There were sneakers to go with them – this never released colorway features a white leather base and a direct "Chamber of Fear" callout on the strap.
Nike LeBron 2 "Chamber of Fear" on eBay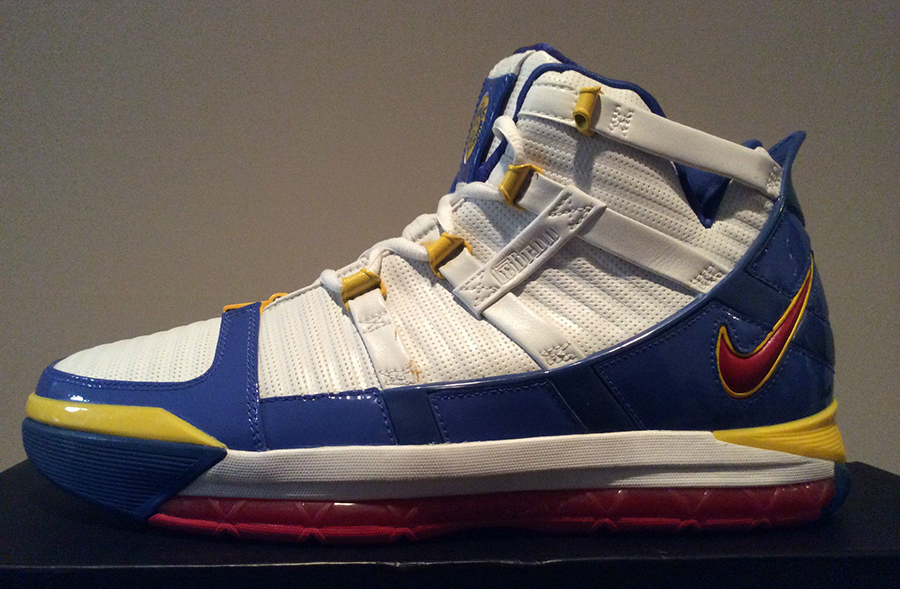 Nike LeBron 3 "Superman"
There are a few other NBA stars who have had more successful bids at the whole Superman thing, but LeBron James' sneakers have actually brushed up against that theme before. The Nike Zoom LeBron III "Superman" here, one of two colorways, features a palette borrowed from Clark Kent's alter ego as well as a logo on the tongue shaped like that of the superhero in question.
Nike LeBron 3 "Superman" on eBay
Nike LeBron 4 "SVSM"
For the duration of his Nike signature line, LeBron has made sure that the institutions that helped make him into the basketball god that he is today got plenty of player exclusive love. Case in point is the Nike LeBron 4 "SVSM" that wears the same green and gold that King James did before he ascended to the throne.
Nike LeBron 5 "OSU"
LeBron James didn't have time for college, but his sneakers always did. This Nike LeBron V version was crafted for the Buckeye Nation and Ohio State University, that strongest of sports schools out in the man's home state.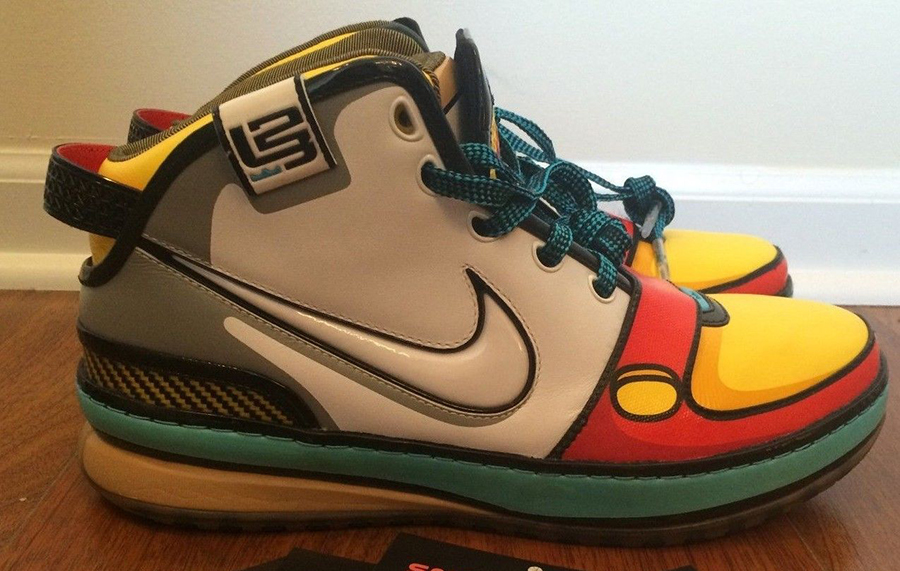 Nike LeBron 6 "Stewie"
This Nike LeBron VI colorway just might be the most far reaching in terms of outlandish inspiration. While LeBron had a cartoon of his own, that didn't mean that he didn't still enjoy watching modern classics like Family Guy. This sample joint was an ode to the bad-mouthed Stewie Griffin with its cartoony hues.
Nike LeBron 6 "Stewie Griffin" on eBay
Nike LeBron 7 "Heroes Pack/Deion Sanders"
The "Heroes Pack" set of LeBron 7s picked up on a gang of colorways borrowed from sports heroes that inspired James as a youngster. Amongst the refereced legends was Deion Sanders, whose red and gold colors show up via this Nike LeBron VII that never made it to retail (Others from the group included Michael Jordan and Penny Hardaway).
Nike LeBron 7 "Heroes Pack" Deion Sanders on eBay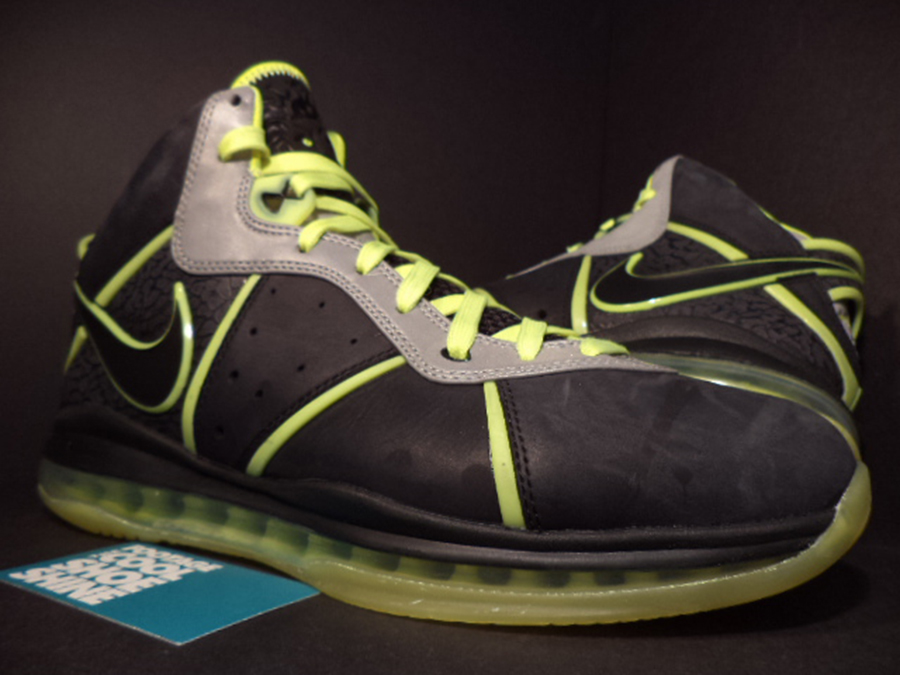 Nike LeBron 8 "112"
DJ Clark Kent is an Air Force 1 man first and foremost, but don't count him out when it comes to chipping in on Nike Basketball sneakers. His "112" theme found its way onto the Jason Petrie designed Nike LeBron 8, a pivotal sneaker in LeBron's line that marked the beginning of the Heat era.
Nike LeBron 9 "Watch the Throne"
Kanye and Jay-Z's Watch the Throne team up inspired this black and gold colorway. The sneaker reflects the luxury tendencies of Jigga and 'Ye with its black/gold base and Givenchy-style details. Of course, they never made it to retail and remain a sought after treasure to this day.
Nike LeBron 9 "Watch the Throne" on eBay
Nike LeBron 10+ "Red Suede"
It looks like an EXT, but it's not. The Nike LeBron 10 here wore red suede and a lacelock denoting the now extinct Nike+ range of LeBron James sneakers. If you've got them in your collection, consider yourself lucky.
Nike LeBron 10 "Red Suede" on eBay