Having your own signature shoe is part of the whole 'I'm going to play in the NBA' dream scenario you had when growing up. You hit the game winning buzzer-beater in the Game 7 of the NBA Finals in a fresh pair of your Air [Insert Last Name Here]'s and become the biggest legend your imagination can muster. So can you blame an athlete for trying to live out his childhood dream of having his name enshrined on his very own signature sneaker, even if it goes against the culture of cool? Nick Young took to Twitter for a little Q&A recently, and he surprisingly announced that his "3P's" would be coming very soon. No brand affiliation was announced, no time stamp. Just a name. And with that, the NBA lost one of its last remaining "real sneakerheads" to the expected money grab.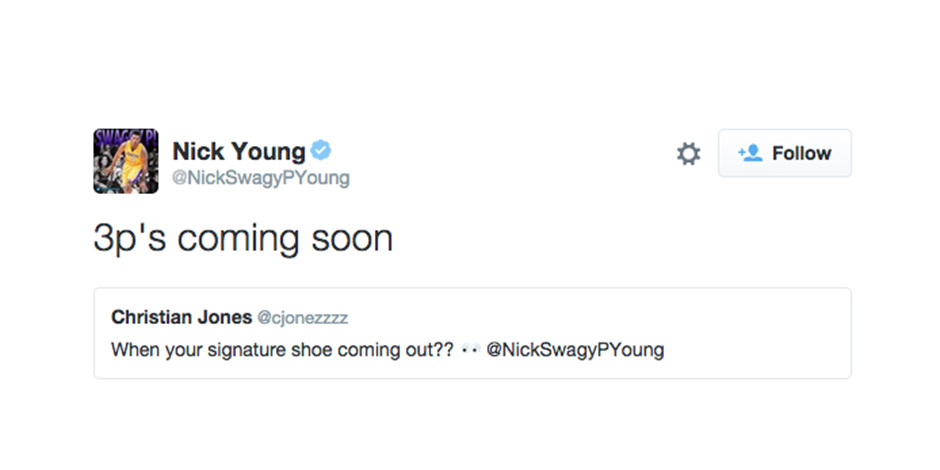 Look, this isn't necessarily a bad thing. It's just different. Nick Young was never a player that would go on to play 15 NBA seasons, garner the respect of ESPN analysts and stat gurus, and draw attention from Nike to start mass producing the Nike Zoom Swaggy P1. He's the guy that when you do a quick Google search of 'Nick Young Greatest Moments' the infamous TNT segment Shaqtin' A Fool immediately comes up in your search browser. He's the classic off-the-bench gunner and is essentially one hands-free Segway ride away from being the West Coast's J.R. Smith. But he's entertaining. And he had some of the best on-feet selections of any current NBA player.
Signature shoes are everywhere in today's landscape. But there's a clear class system in the saturated market. You have Nike's Big 4, Jordan Brand's roster full of interesting talent, and adidas Hoops enticing revival looking to close the gap. Nick Young belongs on the very bottom of the signature star hierarchy, in that he's not a star outside of his own mind. Rumors of adidas pursuing Swaggy P with heavy interest have been floating around and the move makes sense; his eclectic off-court style would put him somewhere smack in the middle of adidas Originals and adidas Hoops and the three stripes could chalk it up as a victory, stealing a lifetime Nike aficionado away from his favorite sneakers for the right price.
The only problem here is that Nick "Swaggy P" Young's identity is so caught up in just that: his swag. His on-court shoe selection has been something sneakerheads admire and tune into with each passing season. And in a league that's becoming more marketable and subsequently more profitable, seeing a player where as eclectic an array as Young's inclination for Foamposites one game, a random OG Jordan the next, and a Kobe performance model after that, is becoming rarer by the season because more guys are grabbing non-traditional sneaker deals while the money is still there. But while respect from sneakerheads might boost the ego for some grass-roots type street credibility, it isn't worth anything more than a pat on the back for being a sort of People's Champion. Having a signature shoe is a once-in-a-lifetime opportunity so it's understandable why so many players jump at the chance to do it. But outside of a major U.S. company, a shoe deal hardly ever manages to captivate an audience, and that's word to Klay Thompson, Rajon Rondo, Kevin Love, and Dwyane Wade.
Take the deal while it's on the table, Nick. Just know that we might struggle to call you Swaggy afterwards. Remember, this could end up being you: