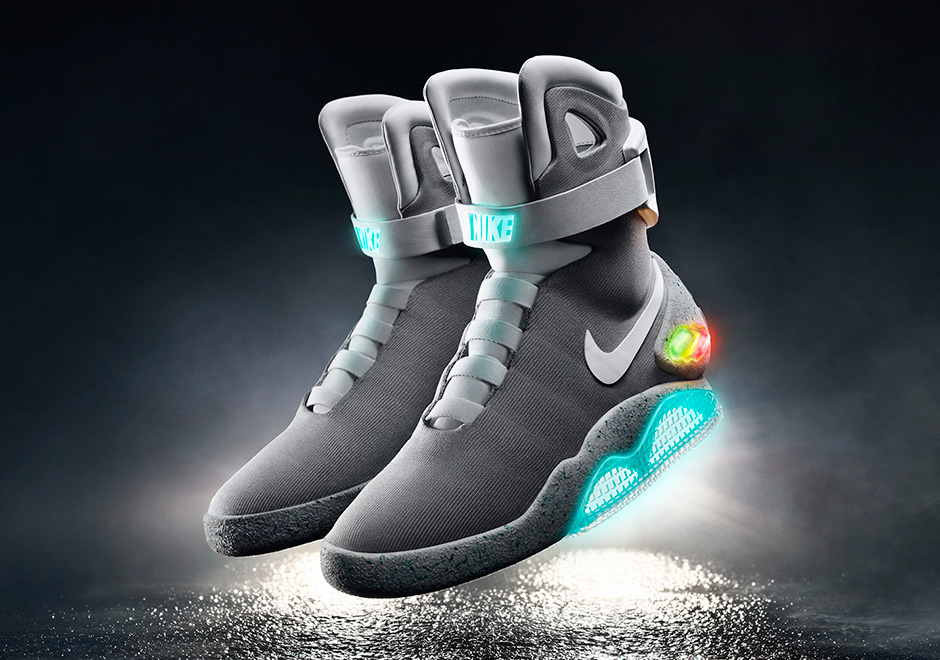 The fully functional power-lacing Nike Mag seen in Back To The Future II will officially release tomorrow, October 4th. The shoes will be released tomorrow with all proceeds going to the Michael J. Fox Foundation.  The average selling price for the Mags in 2011 were around $4,500, but given that these are the real deal, we expect the average prices to be at least double. It is not confirmed if the shoes will release via an open-ended auction like the last release.
Currently, the power-lacing Nike Mag is being previewed on the Nike SNKRS app, showcasing the iconic design of the feature as well as the signature LED lights and power-lacing capabilities. Once again, the Nike Mag release is tomorrow, October 4th, so stay tuned for further info.
Update: According to sources, the Nike Mag will be a lottery, not an auction like the 2011 release. To enter the lottery, you must make a charitable donation towards the Michael J Fox Foundation. Technically, the shoes are not "releasing", but awarded to random winners who make a donation.
Update 2: Nike is releasing 89 pairs of the Nike MAG through the Nike Draw lottery system for $10.00 per entry. Enter here mag.rallyup.com
Nike Mag 2016

Release Date: October 4th, 2016
@bo_zach Download the app and then we'll talk. | https://t.co/PweFcuFFRL

— Nike (@Nike) October 3, 2016