478741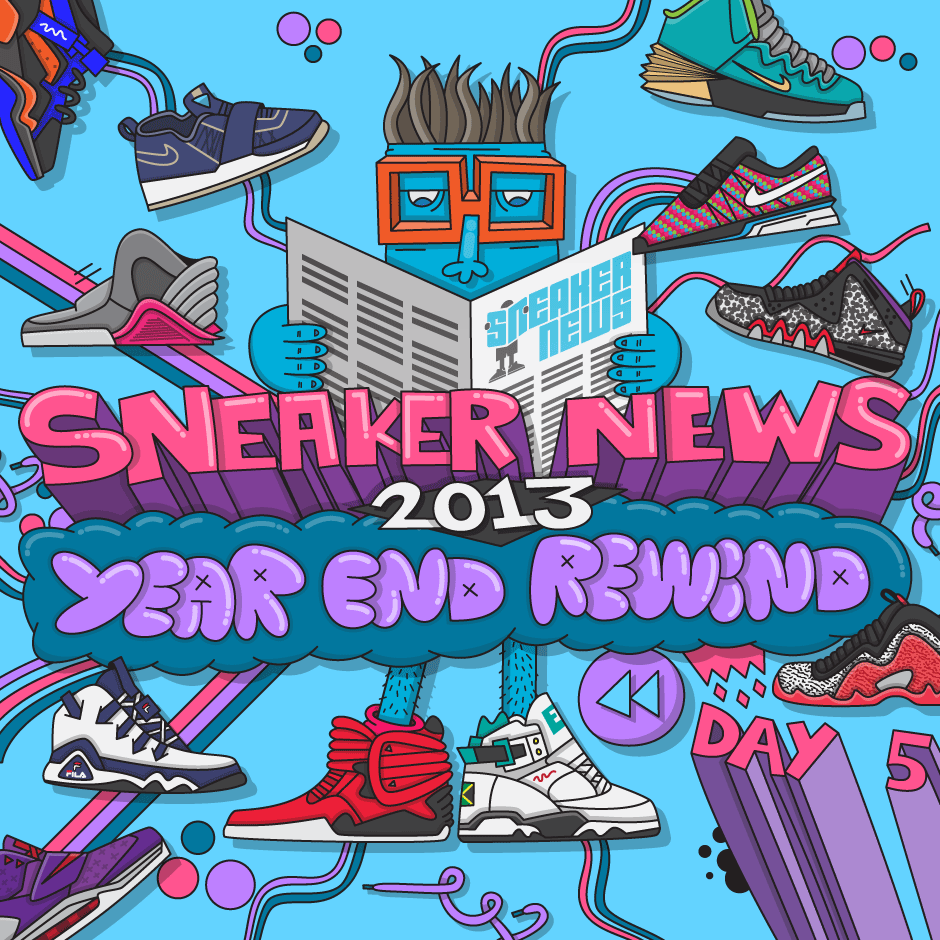 Sneaker News 2013 Year End Rewind: Day 5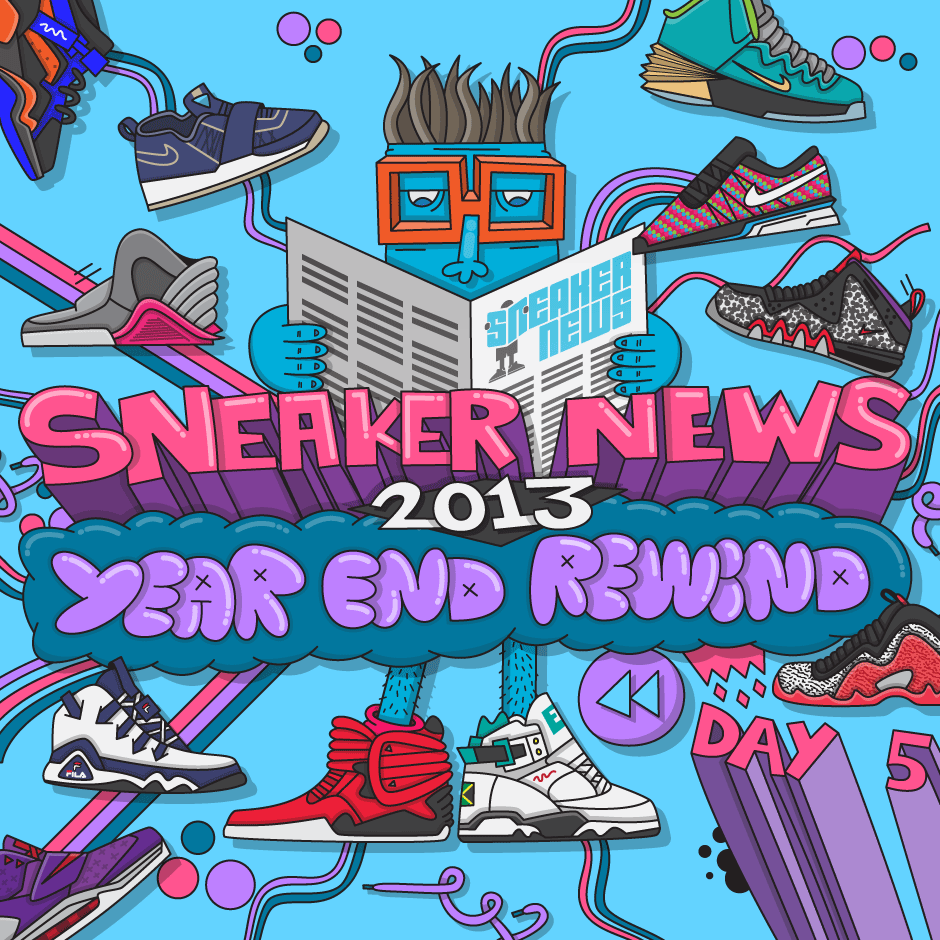 Welcome to the fifth and final day of our Sneaker News 2013 Year End Rewind where we'll be tying up all the loose ends with a smattering of additional sneaker stories. In addition to some of our more action-packed Rewind categories, there were a good amount of stand-alone releases and additional brands that were more than worthy of inclusion in our 2013 wrap-up festivities.
In addition to our Best of the Rest installment, we also had our team take on the difficult task of narrowing down all the year's best offerings into their own Top 5 lists, so check it all out in the following pages. Thanks for all your support this year, and keep it locked on Sneaker News as we continue bringing you all the latest and greatest in the footwear world moving into 2014 and beyond.

Sneaker News 2013 Year End Rewind: Day 1
Sneaker News 2013 Year End Rewind: Day 2
Sneaker News 2013 Year End Rewind: Day 3
Sneaker News 2013 Year End Rewind: Day 4
There's plenty of stuff that doesn't fit neatly into one of our rewind categories, so we compiled some additional 2013 highlights that deserve their moment in the spotlight. Whether it was Nike performance drops, collabs, hybrids or Foam cousins, the continued resurgence of Ewing Athletics, or Fila's return to the sneaker headlines, the year offered plenty of diversity for consumers.
Continue on for our Best of the Rest rundown for a few more reminders of the past year in sneakers, followed by some personal Top 5 lists by members of the Sneaker News staff. Apologies if we missed any of your favorites, but we hope you enjoyed our Sneaker News 2013 Year End Rewind and we look forward to bringing you the best and latest in sneaker info in 2014!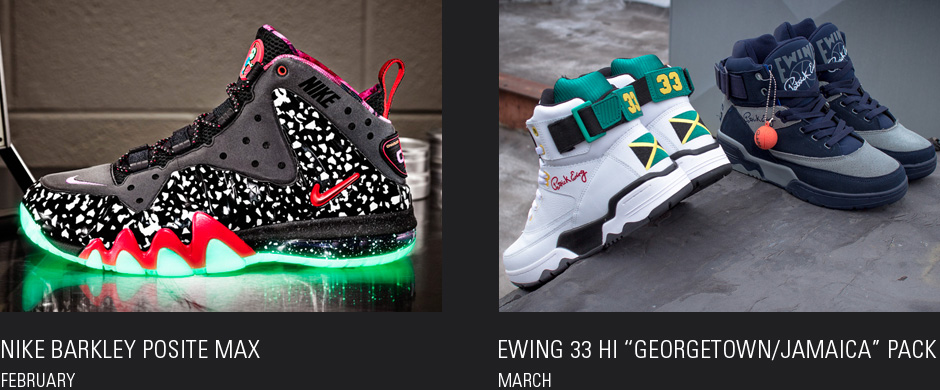 The Posite family got an interesting addition when Nike blended the popular material with elements of Charles Barkley's Air Max2 CB 94 model for one of the year's most notable mash-ups. While a number of colorways were scattered across, none could match the energy of the "Area 72" All-Star edition.
Ewing Athletics kept the momentum rolling into 2013 with the March release of two tasty colorways inspired by Big Pat's personal history – one for his birthplace and the other as a nod to his collegiate days dominating the paint for the Hoyas.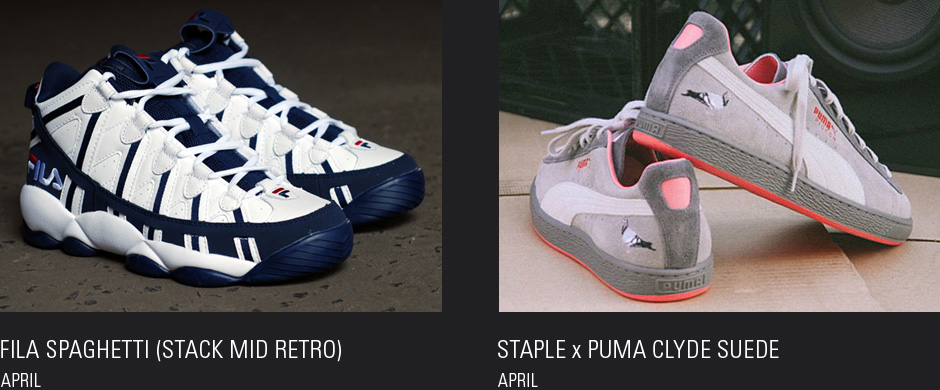 Jerry Stackhouse's classic 90's signature made a retro return, and while it carried a new moniker, the Spaghetti, Fila would eventually re-sign Stack and outfit him with some Brooklyn Nets PE versions over the course of last season.
Jeff Staple meets Walt Frazier by way of the Puma Clyde Suede. Of course, the classic "Pigeon" color palette and graphic mascot were invited to tag along for one of the year's most slept on collab projects.
After the bad habit-inspired Vice Pack, Lil Wayne finally got his own Supra silhouette, the Chimera, as well as the announcement of his Spectre sub-label.
UNDFTD and Nike re-animated one of their classic Dunk collabs, as well as a matching version of the Hyperdunk 2012 for the past meets presents "Bring Back" Pack.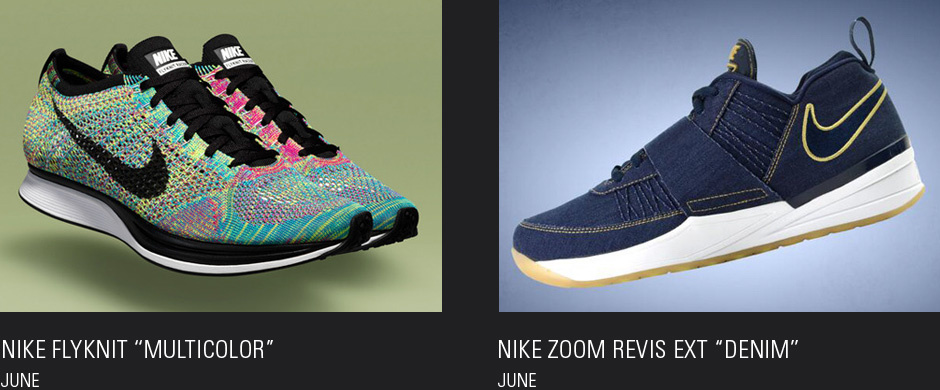 The Multicolor motif hit a number of Flyknit models over the course of 2013, but it was the Racer version back in June that proved to be the cream of the crop and the toughest to track down.
Like the signature basketball lines, Darrelle Revis's Zoom Revis model also got the EXT treatment with a handful of lifestyle colorways headlined by the blue denim installment.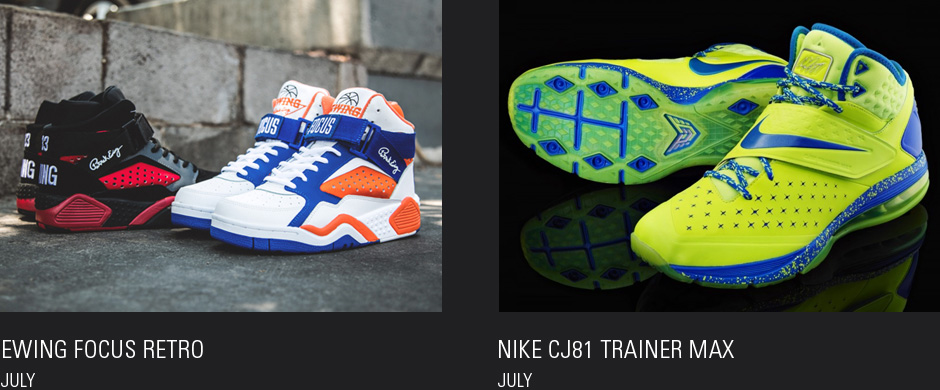 The Ewing Athletics arsenal expanded beyond the flagship 33 Hi model to bring back a handful of OG colorways of the Focus – another of Patrick's game shoes from the original days of his signature brand.
Nike had the defensive side of the ball covered with Revis, but in need of an offensive threat, they released a signature shoe for superstar wide receiver Calvin Johnson in July, followed by the incredible "Megatron" at the end of the year.
The yearly installment in the ongoing Hyperdunk series got one of its most drastic aesthetic updates yet and a variety of eye-catching colorways like the PE pair designed for rising star, Kyrie Irving.
Now going by the name, Fila 95, Grant Hill's hugely popular first signature shoe stirred up some nostalgia when it made a long overdue comeback this fall in its original home and away colorways.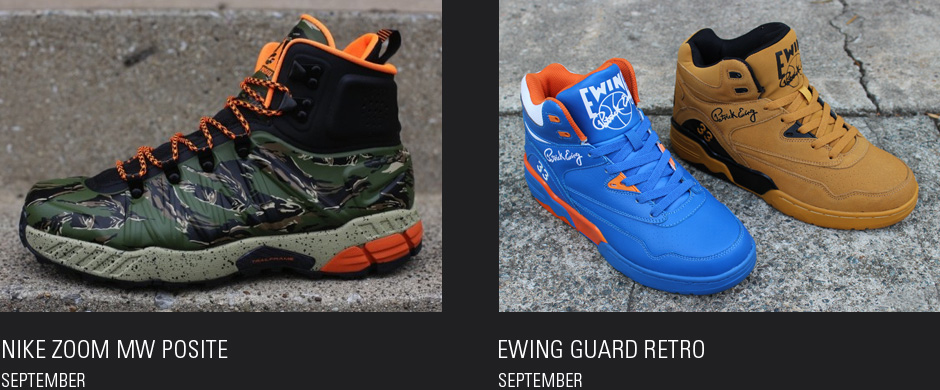 The Foam revolution spilled over into the ACG category once again for a weather-ready technical take on their Meriwether silhouette, the Zoom MW Posite, complete with attention-grabbing camo and Safari editions.
Even back in the day, Ewing recognized that backcourt players needed a lower cut shoe and they introduced the Guard – a 3/4 takedown of the 33 Hi that retroed in some OG make-ups this fall.
Nike introduced a Free sole version of the Flyknit this fall with an upper construction more like a sock than a sneaker. To complement the launch, the HTM dream team created their own version featuring the same midsole, but with an an ankle structure more similar to the original Flyknit model.
The world of Nike Flyknit expanded even further with the unveiling of the Free Hyperfeel Run – an outdoor-approved iteration with a form-fitting build and a flexible cushioning system designed to maximize the flow of natural motion.
With Foamposite demand at an all-time high, Nike expanded the range by bringing back the Air Flightposite silhouette with exposed laces rather than the zip-up look of the original.
Fila had a strong year with their retro basketball efforts, but Concepts helped remind everyone what sport first put the brand on the map with two heritage-based colorways of the Original Tennis.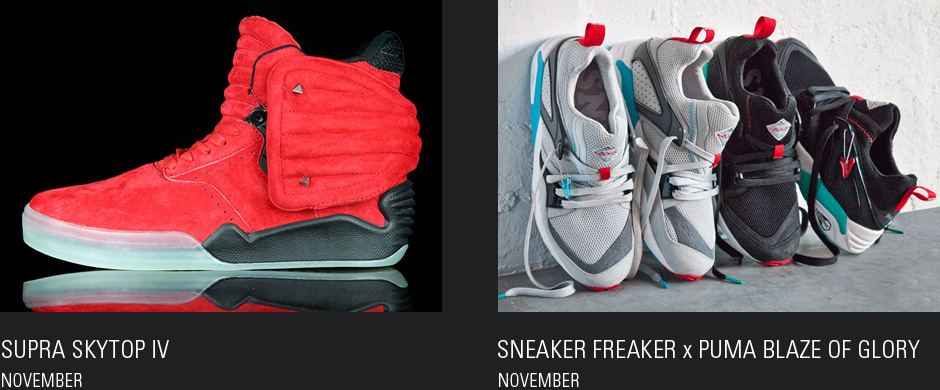 Supra and Chad Muska were at it again for the fourth iteration of the Skytop series – a futuristic high-cut design that featured a special padded heel shroud on the first two colorways to release.
Sneaker Freaker teamed up with Puma for a re-issue of their 2007 Blaze of Glory "Shark Attack" pack, featuring some slight material and color tweaks to the original designs and presented in some incredible special packaging.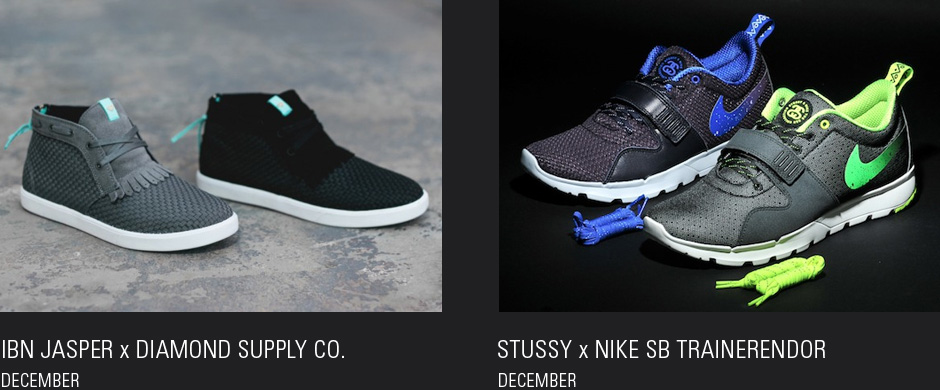 As a member of the Kanye inner-circle, Ibn Jasper, gets more collaboration opportunities than most barbers, with the latest coming by way of this woven two-pack from Diamond Supply Co.
The Nike Air Trainer 1 concept gets blended with both the ACG and Skateboarding categories for the new Trainerendor silhouette which was further bolstered with a late year duo of Stussy collab editions.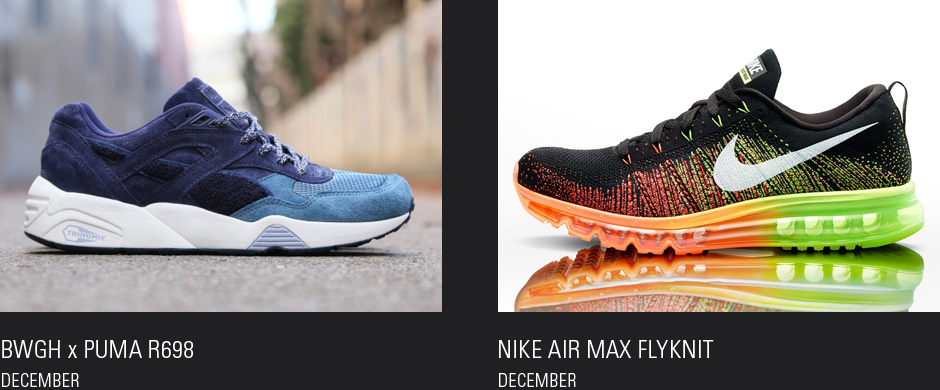 French label, Brooklyn We Go Hard, joins forces with Puma to remind us all how well the R698 could do in today's market thanks to their killer sueded-out "Bluefield" edition.
After seeing several evolutions and variations of Nike's Flyknit technology over the course of the year, they finished with perhaps the biggest bang of all by combining it with a full 360 Air Max unit.

Concepts x New Balance 998 "Mint"
I never realized how bad I needed mint-colored sneakers in my life until these came around. Easily my favorite drop in a year full of killer New Balance collabs.
BAIT x Asics Gel Saga "Phantom Lagoons"
Doesn't hurt that I'm a sucker for the Saga, but everything about this release was perfect to me. BAIT's take on the shoe blew me away and quickly became one of my most satisfying pick-ups of the year.
Supreme x Nike SB Tennis Classic
I wanted the white pair, but took my sweet time and wound up with the purple. I still regret missing out on the crispy whites, but these have surprisingly become one of my heavy rotation beater pairs.
Air Jordan IV "Toro"
There was bound to be some kind of release hangover after the 2012 celebration of the IV, but luckily a few new versions trickled out this year. This red "Toro" pair was it for me, and although I'm yet to wear them, they've been nice to look at on the shelf in the meantime.
Garbstore x Reebok
How did it take so long for somebody to do this? The concept was executed perfectly across the pack, but the GL 6000 with the all-over Reebok print liner material and terrycloth heel was the pick of the litter for me.
On my radar for 2014:
I'm excited to see the Air Tech Challenge line being brought back, especially the return of the ATC II next year and those interesting all-suede versions we've seen some previews of.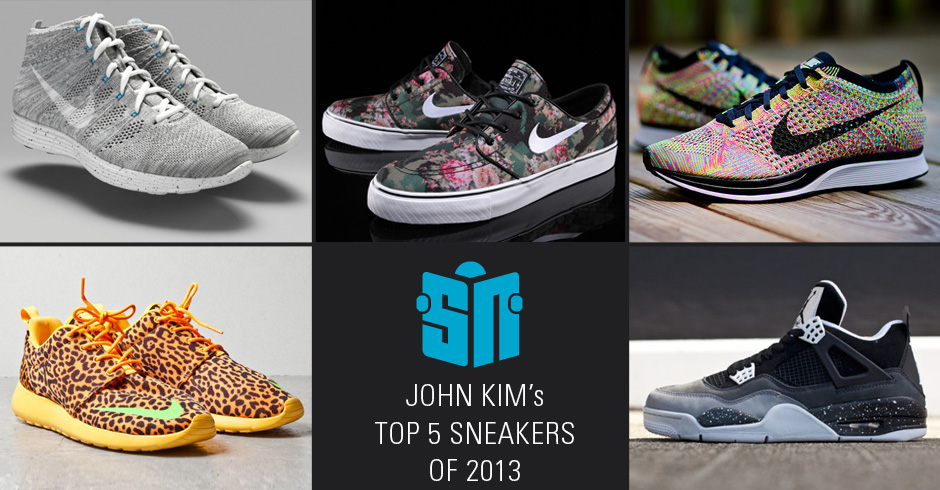 HTM x Flyknit Chukka
The silhouette alone was one of my personal favorites of the year, but the "Snow Style" colorway that HTM put together was flat out insane. The speckled midsole and that clean combo of thread colors made these one of the best Flyknits – period.
Nike Flyknit Racer Multi-color
My Flyknit Racers were on heavy rotation since the first release in 2012. Not that I got "sick" of the shoe in any way, but I needed a revitalizing new colorway to give it some extra umph. I remember the multi-color hitting Nikestore while I was in DC on business – I dropped everything and headed straight for my credit card and phone for two pairs easy.
Nike SB Stefan Janoski "Digi-floral"
In my opinion, the Digi-Floral Janoski was the best Nike SB release of the year – maybe of the last three years. I copped a pair when they randomly hit a few skateshops on a Saturday morning and every time I wear them, they turn heads. Nothing tops it!
Air Jordan IV "Fear"
Hard to pick just one Air Jordan Retro in a massive year for the brand, but kudos to the "Fear" IV. It combined the "Oreo" and "Cool Grey" in one fell swoop and the little hits like the red Air unit made these incredible.
Nike Roshe Run FB "Cheetah"
In a Roshe-heavy year, these Cheetah FB was, by far, the best of 2013. It's the little touches like the neon green forefoot Swoosh that bump these into the Top 5. These never hit the U.S. and I bought these for not much over retail on eBay.
On my radar for 2014:
Nike Flyknit Trainer Chukka FSB – I already love Flyknit, I already love Chukkas, and I already love Winterized Soles. I'll take two.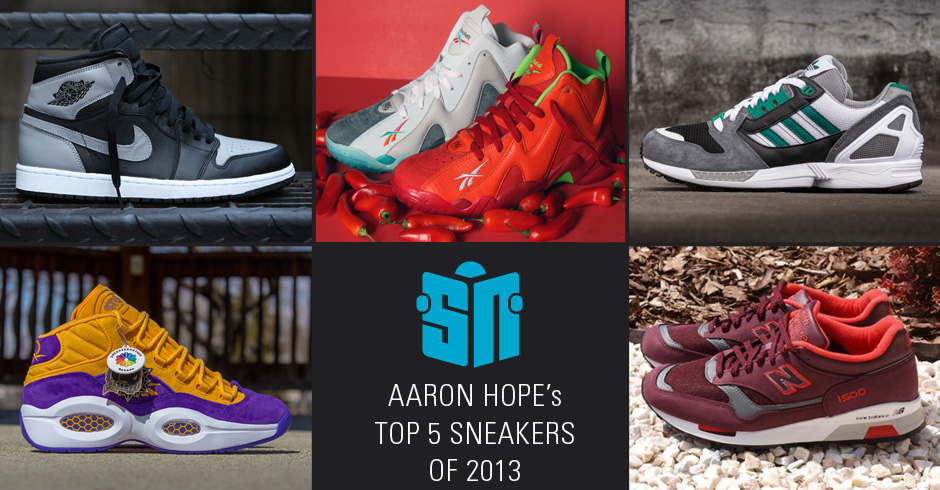 SNS x Reebok Question "Crocus/Nothing"
SNS killed it with their Reebok collabs in 2013.  The rich suede and dope palettes they applied to the first Allen Iverson shoe remade it in my eyes and made both must haves.  Add in two themes near and dear to my heart with flowers and a vague Seinfeld reference, and I can't tell you which is 1a) and which is 1b).
Air Jordan 1 "Shadow"
So many dope retros and strong new colorways; 2013 was just an amazingly prolific year for Air Jordan retros.  This one captures the essence of why we love them with an OG 1985 style done up with the original branding.  The Bulls makeups are equally classic if not more so and the suede Laneys stood out to me but the 'Shadows' are my personal favorite.
Reebok Kamikaze II
I slept on these when they debuted when I was a sixth grader; for me that year was about the Jordan XI, Penny 1 and Zoom Flight V.  So I didn't start the year especially keyed in on the OG colorways, but some of the new stuff really spoke to me.  Both Packer collabs were top-notch, that green suede edition has me looking forward to next year and I still regret not buying the 'Herringbone' colorway for retail when SNS dropped it.
New Balance 1500 – Maroon
A silo I usually describe as my favorite New Balance shoe with my school colors?  I loved the United Arrows collab too but the premium Made in England nubuck takes the title here.
Mita x adidas ZX 5000
In recent years, my wardrobe and sneaker closet tended toward faded shades, jewel tones and other color options that keep things interesting but subdued with tons of cross-compatability.  Going into it with this mindset, this colorway really surprised me.  It didn't just stand out in my eyes; mita's EQT-inspired ZX 5000 actually entranced me with its high contrast build.
On my radar for 2014:
I'm always on the lookout for sleepers, and there's a tonal blue New Balance 574 with a gum sole that might fit that bill nicely.  That and more Asics Gel Lyte V collabs.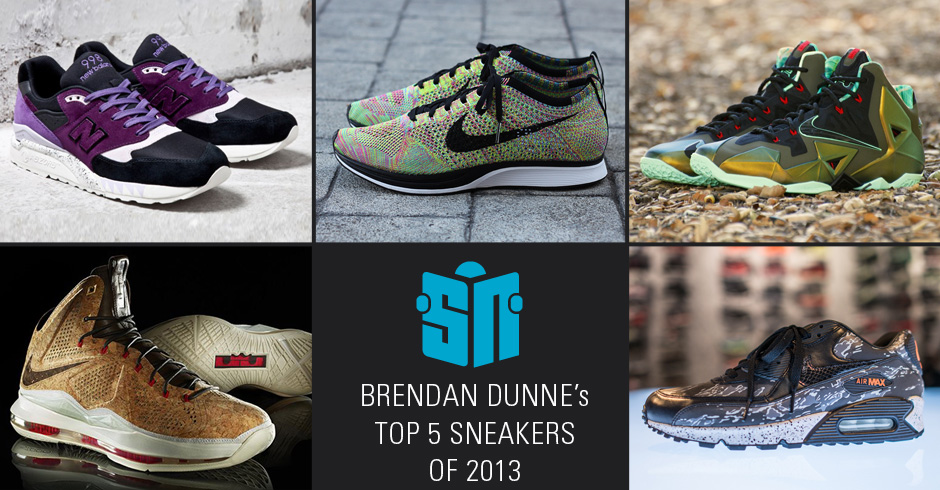 New Balance 998 "Tassie Devil"
Before these dropped I had pretty much resigned to taking an L on the release since so few spots were getting them, but I magically managed to grab a pair straight off the Sneaker Freaker webstore. Shipping from Austrlia is no joke but it was worth every penny for these.
Nike LeBron 11 "King's Pride"
Yes the Nike LeBron 11 looks like a futuristic pair of space robot shoes. Yes they are awesome. Two pairs for me on the incredible debut "King's Pride" colorway.
atmos x Nike Air Max 90 "Tiger Camo"
Can't remember the last time I bought a pair of 90s before these. The combo of camo and 3M and when both are at an all time high is a bold, obnoxious move that I very much appreciate. Despite my struggles on release day I did happen upon a pair thanks to a gracious assist.
Nike LeBron X EXT "Cork"
These were a tough one to track down, and the hunt definitely played into my affection for them. Proper theme, not too bullish on the execution, and a unique material selection-these were defintely my favorite of LeBron's last go.
Nike Flyknit Racer "Multicolor"
The Racer is by far my favorite of the Flyknit silhouettes to date. I know everyone was crazy about the Chukka this year but their height is still a little awkward to me. Anyways, this is my favorite Racer to date and I was happy with how easily they were to attain.
On my radar for 2014:
Nike Flyknit Trainer Chukka FSB – I'm hoping there will be other colorways soon cause I'm not big on the Volt outsole. Everything esle about these is killer though-3M details, that rugged outsole, and the USA details. Can't wait.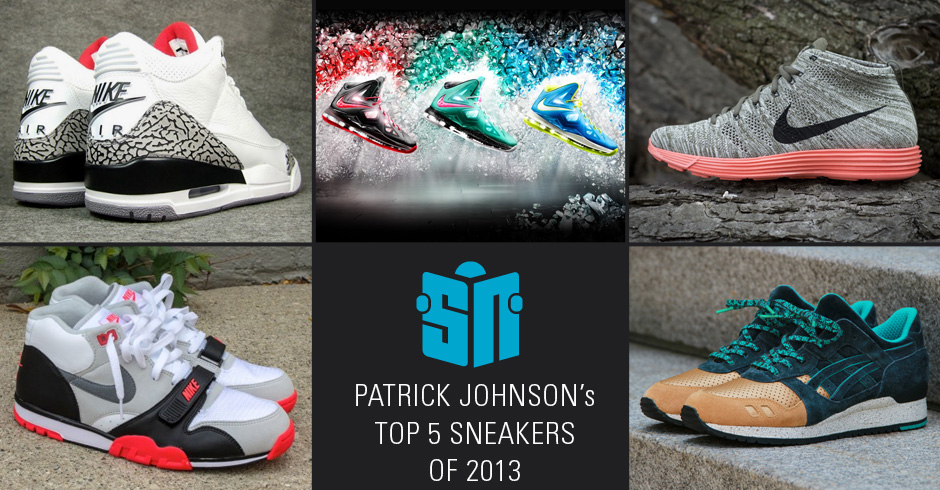 CNCPTS x Asics Gel Lyte III "3 Lies"
I'm a big fan of shoes that reference Ivy League Education. But in all honesty, Asics collaborations always bring out the best from their respective counterparts in terms of narrative beyond colorways, and the fact that there was an idea to make a shoe based on the statue of the Three Lies of Harvard fits the pretentious hipster side of me I'm trying to hide daily, but then there's the appearance – and that's what matters. And they killed it. Dark green suede upper contrasted by the gold toe as seen on statue? Perfect. (Too bad every bar closes at 8pm in Boston every night and I can't walk around the city in these having Hahvad girls rub my sneakers for good luck.)
Nike Air Trainer 1 "Infrared"
Nike brought back their first ever trainer model in Bo Jackson's Nike Air Trainer 1, but did so in a big way by fusing it with that classic "Infrared" scheme found on the Nike Air Max 90. What resulted was something familiar enough to wonder why this hadn't happened sooner and went a little under the radar.
Nike LeBron 10 on NIKEiD
The Nike LeBron X made a ton of news last year from the start – when it was initially announced to have a hefty price tag – it seemed like people were more than willing to take shots at the LeBron line, but then it became one of the most successful models (financially and aesthetically) and a lot of it had to do with the accessibility of the Nike ID inclusion. I was excited when LeBron's 9th signature was available on the site, but I think it took a year to work the kinks out. Whether it served as a base for all of the crazy customs we saw last year, or people recreating some of their favorite LBJ PE's like the Carmex scheme, we were seeing this sneaker every day and I never remember tiring of it.
Nike Lunar Flyknit Chukka – Tarp Green – Total Crimson
While the HTM iteration, with its subtle cool grey and blue probably won more people over initially, the Tarp Green and Total Crimson scheme was my favorite. And even though the Chukka is a shoe that left me wondering what it's exact purpose was other than to make the most technologically advanced chukka look so good on-feet, the combination of comfort from that lunar sole and casual Fall aesthetic made this a must have.
Air Jordan III Retro '88
Say what you will about me being envious of sneakers that's original release date came out three years before there was even an idea of my conception, but the aesthetic of the classic Nike Air logo on the back heel just fits better than the sparse Jumpman logo 3 Retros see today, so kudos to the brand for letting a new generation of kids experience it without trading half their collections for a shot at wearing them. Clean, and simple, the memories of these live on back when dunk contests mattered – apparently. Don't get me started on the And 1 Tai Chi retro though, because that's a dunk contest I actually remember watching live.
On my radar for 2014:
Air Jordan VI (general) – With as big a year as the Air Jordan 5 had for its 23rd anniversary, it will be interesting to see what Jordan Brand does for the Air Jordan 6 in 2014. We've already confirmed that classic Air Jordan 6 "White/Infrared" and the Sport Blue variant will return to store shelves for the first time since 1991, but new schemes are popping up too like that loud "Toro" look. It will also be interesting to see if they do anything with the silhouette to honor MJ's first championship, too.