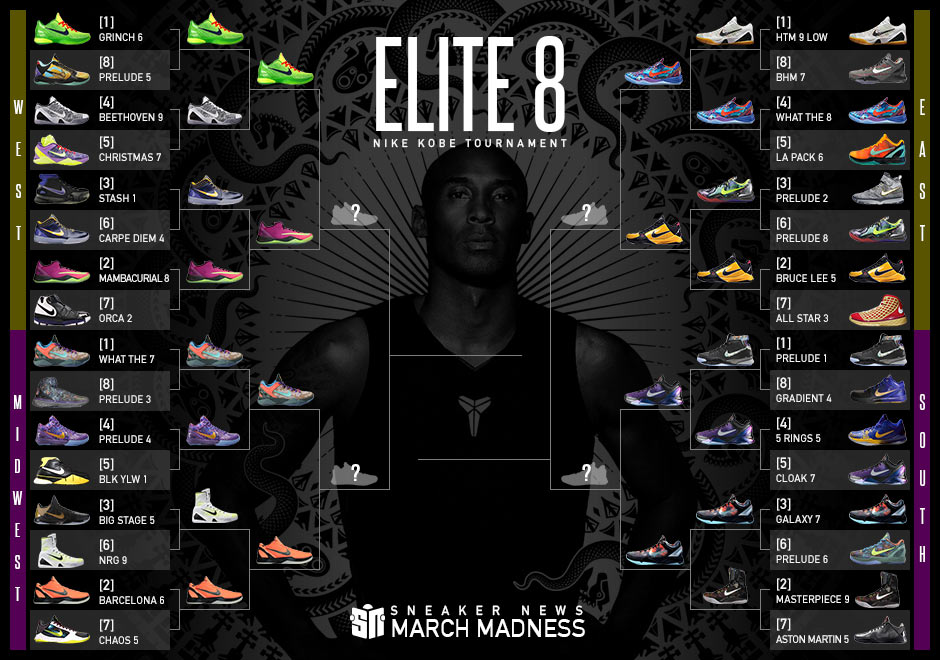 When we first unveiled the Sneaker News March Madness Nike Kobe bracket a few weeks back, many readers mentioned that the parity between all the participants was rather slim. In short, that meant that upsets (based on seeding) were bound to happen and no #1 seed was safe. Today, we unveil the Elite 8 round of the Kobe Tournament, with two #1 seeds being knocked out in surprising fashion! If you're mad that your favorite Kobe didn't make it, be sure to vote and share with your friends! Voting for the Elite 8 is open now and polls stay open until April 5th, 2015 at 11:59 PM EST, so get your tallies in and we'll move one step closer to naming the best Nike Kobe in history.
WEST
The two big dogs of this region continue their dominant run. The Kobe 6 "Grinch" was a pre-tournament favorite to win it all, but you'll be surprised to know that it beat its most recent opponent, the Kobe 9 "Beethoven", by a much smaller margin than anticipated. The Kobe 8 "Mambacurial" had a much easier Sweet 16 round, handling its match-up with east. Which of these two hot picks will reign supreme?
—
MIDWEST
Another 1 vs. 2 graces us as we move down to the Midwest region. The first-ever "What The" release in the Kobe 7 continues to fly high, as does the number 2 seed, the Kobe 6 "Barcelona", which many believed to be the true hot ticket of this region. Seeding goes out the window because the two best of this region clash for a shot at the Final Four.
—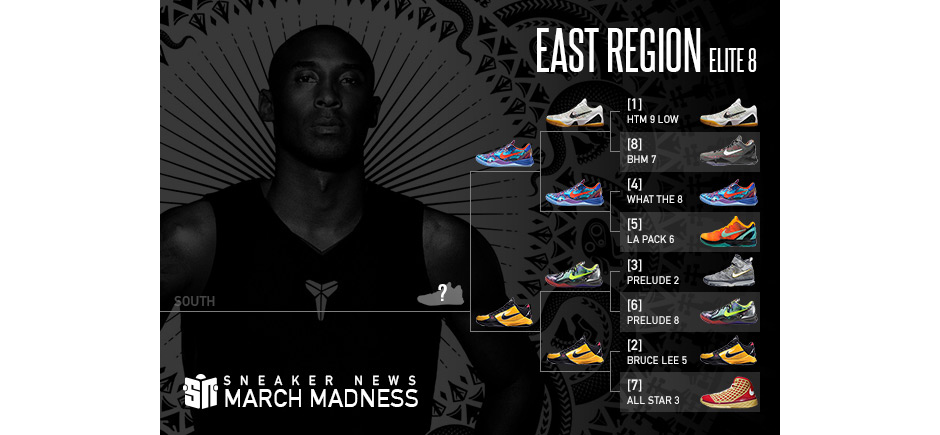 EAST
Are you surprised that the #1 seed of this region has been knocked out? You can thank the "What The" Kobe 8, who had the tough task of bringing down the Kobe 9 HTM. It faces off against one of the quirkiest Kobes in history, the "Bruce Lee". Will hype or honor be the victor?
—
SOUTH
Upset special! The top two seeds of South have gone fishing, as the Kobe 1 "Prelude" and Kobe 9 "Masterpiece" were unable to hold on against two Kobe 7 releases in the "Galaxy" and "Cloak". To some, the result is a travesty, but for others, this is what a tournament bracket is all about. So, which of the two Kobe 7 releases has your vote to move on to the Final Four?