There's no doubt that the world of Air Jordan enthusiasm and collecting is dominated by men. This is obviously reflected in the number of men's releases of Air Jordan retro models, but every so often, the ladies and kids get treated to exclusive colors of their own. Usually designed in feminine color-ups for the ladies and more colorful, childish versions for the kids, a lot of the exclusive colorways don't really appeal to most guys' tastes. But every so often there comes an Air Jordan in small sizing that leaves the men jealous.
And that's what we're here to look at today: the best colorways for kids and women that have guys squeezing their feet into a pair—or wishing they had much smaller feet. Inspired by the new girl's "Hot Lava" Air Jordan 5 that has many guys longing for larger sizes, we dug up the Jordan retros that prove men don't get all the perks when it comes to sneaker collecting.

Air Jordan 5 "Hot Lava"
"Hot Lava" will forever be a vibrant pink tone associated with Andre Agassi's iconic Air Tech Challenge II, but now a fellow 1990 model gets some of the explosive hue. Paired with grey and black, the result is arguably the best colorway for the Air Jordan 5 not available in men's sizing ever.
Air Jordan 11 Low "Citrus"
One of the many Air Jordan 11 Lows released in 2001, the summery "Citrus" colorway that released only for the ladies has had more than a few smaller-footed guys wearing it throughout the years. They now have a confirmed return in 2015, but many of the shoe's male fans are still going to be left in the dark. These will be available up to a size 9.5Y, which is the same as a size 9.5 for adults, so guys are only in luck if they have smaller feet.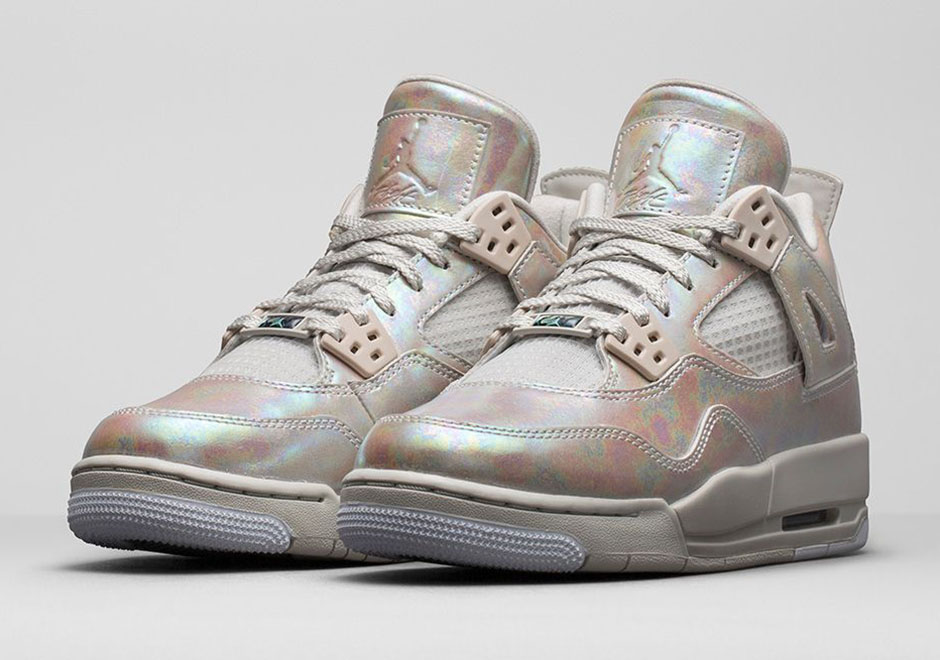 Air Jordan 4 "Pearl"
With the success of color-shifting sneakers like the Nike Air Trainer 1 "Superbowl", these pearlized Air Jordan 4's that released earlier this year would have been a no-brainer for success in men's sizing. Another ladies-only release that left the boys envious simply because of that luxurious look, and had 'em looking like a lost Bin 23 release.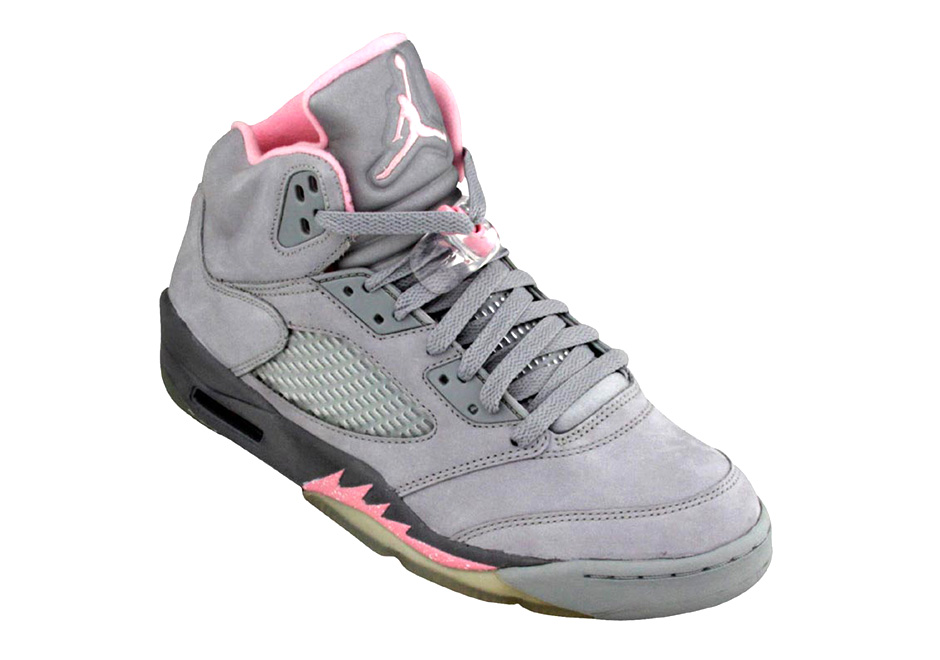 Air Jordan 5 "Shy Pink"
Basically the popular "Wolf Grey" colorway of the Air Jordan 5 with light pink accents, the women's "Shy Pink" color way from 2006 is one of the cleanest Air Jordans specifically for the ladies ever. Many guys confident enough to rock pink (shouts to Cam'ron) were left wishing these came in their size.
Air Jordan 8 "White Aqua"
Long before the "Grape" Air Jordan 5 was flipped into the "Black Grape" colorway, Jordan Brand kind of did the same thing, but in reverse, for the popular "Aqua" Air Jordan 8. Unfortunately, the "White Aqua" look came only in women's sizing. This is another women's Air Jordan that you've definitely seen smaller-footed guys wearing.
Air Jordan 3 "Cool Grey Flip"
Every fans of Jordans loves Cool Grey, and they also love elephant print. So when the two combined onto a new "Flip" version of the Air Jordan 3 in 2011, many guys were bummed to find out they were only in GS sizing. How could you not accentuate elephant print with the colors of the animal?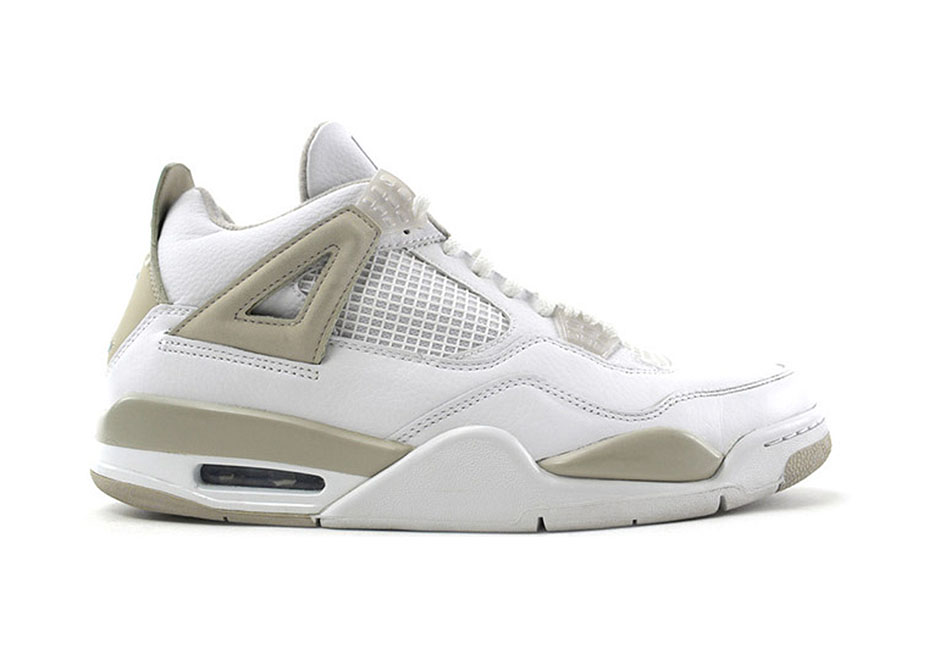 Air Jordan 4 "Linen"
A nice, subtle colorway of the Air Jordan 4 that unfortunately released only for the ladies in 2006. Officially a "Light Sand' shade of tan used as the accent color, these took on the the "Linen" nickname after the similarity in shade to the popular tan and pink Air Force 1. Those Forces were for the guys, so why not these?
Air Jordan 3 "Harbor Blue"
There's definitely some "True Blue" vibes to this clean Air Jordan 3 from 2007. But once again, the guys were left out, leaving only the ladies to be able to stunt in a pair.
Air Jordan 6 Low "Coral Rose"
The Air Jordan 6 Low is making a comeback this year for the first time since 2002, so why not bring back the awesome pink-accented color way for women? In men's sizing too, of course.
Air Jordan 11 Low "Metallic Silver"
A second women's-only colorway of the Air Jordan 11 Low  from 2001 that had the guys fiending, the silver wrapped colorway would be an easy sell if it ever dropped again in larger sizes.
Air Jordan 13 "Hyper Pink"
The hot pink may be a bit feminine for a men's release, but this awesome color block definitely has some guys jealous. Throw a Chicago Bulls tone of red on these and they'd be a huge hit for the fellas.
Air Jordan XIII Low "Carolina"
The unreleased sample of the Air Jordan 13 inspired by the Tar Heels almost came back to stores in true form. This 2005 release was a low-top release and was actually exclusive to the ladies. How can you tell? Peep the pink Jumpman logo on the tongue.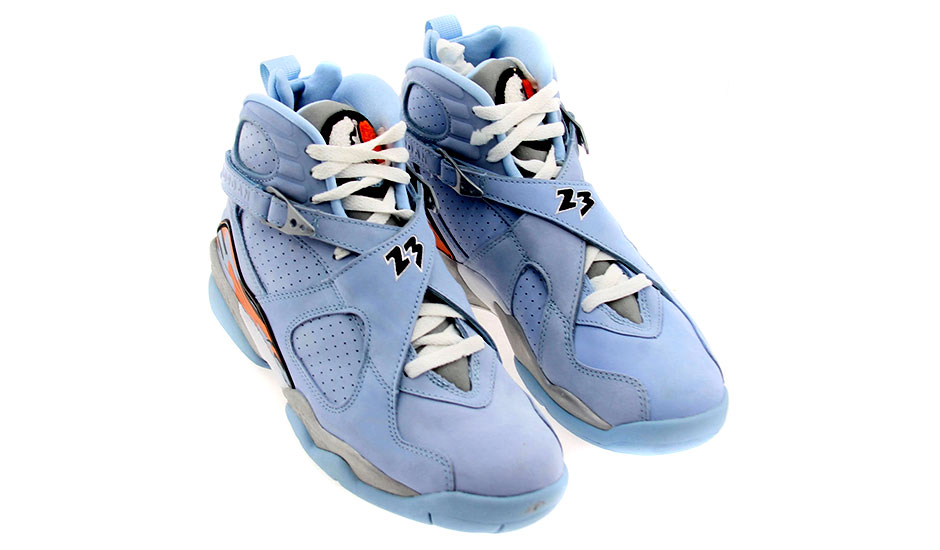 Air Jordan VIII "Ice Blue"
The Air Jordan 8 was one of the more conservative Air Jordans in history in terms of color ways, mostly due to the wild graphics on the mudguard of the shoe. This Ice Blue pair of 2007 ditched the flat white and black and brought in a bold new look, and the fellas were definitely hunting around for the larger sizes.
Air Jordan XIV "Blackout"
Long before the "Ferrari" 14s was this 2005 "Blackout" pair of MJ's final "Bulls" sneaker. The all-suede upper was matched with the murdered-out midsole, but the hints of pink on the badge and tongue kinda threw us off. Another bit of interesting info: these were rather popular among sneaker customizers who successfully transformed these into Indiglos.
Air Jordan V "Sunset"
As you can tell, the 2006 women's exclusives of the Air Jordan V were popular. This simple colorway took on a classic white and matched it with Sunset Orange and a classic Bulls red for one of the cleanest Air Jordan Vs to date. And while it never surfaced, we're sure a Dwyane Wade PE was made in similar fashion.
Air Jordan 5 "Floridians"
Easily recognizable as the popular "Floridians" color way seen on the LeBron 10, the ladies got hooked up with the color scheme on the Air Jordan V in 2013. But what gives with none for the guys?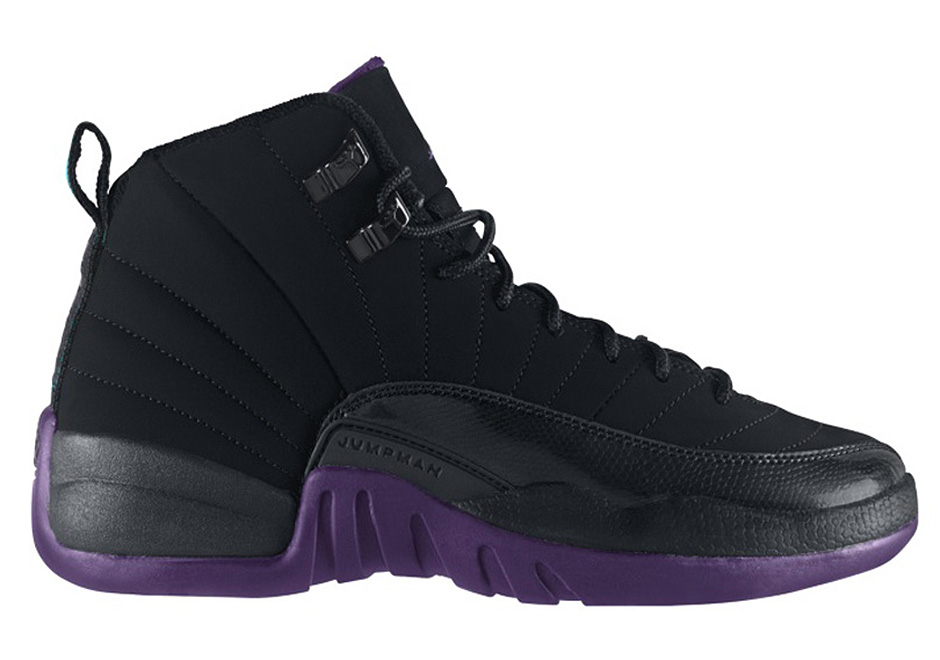 Air Jordan 12 "Black/Varsity Purple"
Jordan collectors had been fiending over Mike Bibby's PEs for years, so when a colorway that actually resembled something he could have worn in Sacramento only dropped in GS sizing, many were just a bit disappointed. These Air Jordan 12s from 2010 actually have some teal thrown in, giving them some "Grape" or Charlotte Hornets vibes, as well. And that's never a bad look for the guys.
Air Jordan 6 "Bright Grape"
"Carmine" colorblocking came to the Air Jordan 6 in two colorways for the ladies, including a hot pink version and this one that's a little more friendly for men, the "Bright Grape" iteration from 2014. Until men get another variation of the classic Carmine blocking, these will continue to be envied over.
Air Jordan 7 "Varsity Maize"
The popularity of the "Thunder" and "Lightning" Air Jordan 4s makes a pretty good argument for why this women's Air Jordan 7 from 2006 in a similar color scheme should have also been released for men. Especially since this is another women's Jordan you'll actually see some guys wearing from time to time.