821647
There's no brand on the market today that boasts a lengthier heritage than Converse. The Malden, Mass-based footwear wizards can lay claim to what may very well be the most iconic sneaker ever with their Chuck Taylor, and have been producing footwear for well over a century. The brand is much more than just the Chuck though: they've crafted many other silhouettes that have both withstood the test of time and been adopted by a smorgasbord of different subcultures the world over, but they seemed to facing rising pressure from other brands in the casual lifestyle market over the last few years as the general public's taste ebbed and flowed between various trends.

But as they say, pressure makes diamonds, and Converse burst onto the scene in 2018 with a plentiful helping of releases both classic and collaborative to remind everyone who the real originators were. Linking up with some of the buzziest designers and artists on the market as well as tapping rising brands for unique, eye-catching kicks that boasted keen attention to detail, Converse was a breath of fresh air in 2018 — reminding us all that there's really nothing quite like a tastefully-done classic.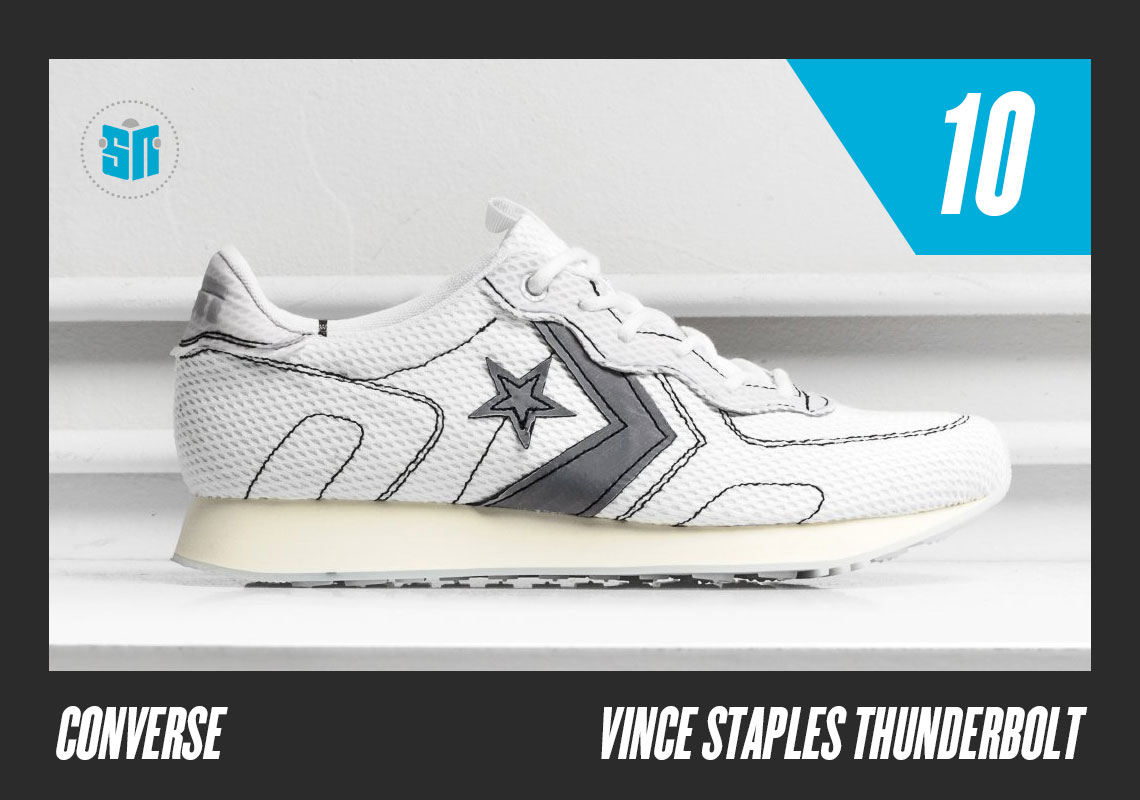 10. Vince Staples x Converse Thunderbolt Among rappers today, Vince Staples is a unique breath of fresh air — known for his dry wit, brutal honesty, and intricate rhymes. The Long Beach-bred wordsmith recently added his special touch to the underrated Thunderbolt, adorning it with rough-hewn detailing for a singular collaborative creation.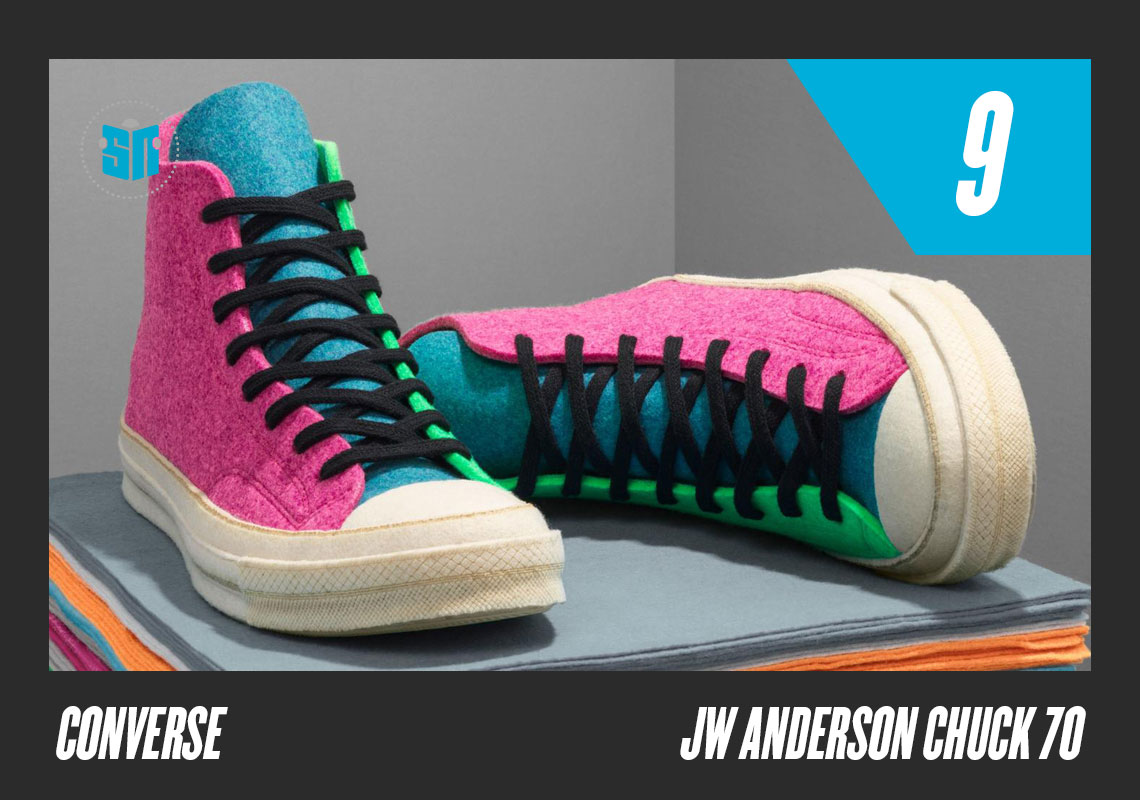 9. JW Anderson x Converse Chuck 70 "Felt" JW Anderson is no stranger to Chuck 70 collaborations. The London-based designer added everything from all-over branding to toy-inspired uppers to the classic sneaker this year, but his very best work was the "Felt" pack, featuring a deconstructed look and a soft feel.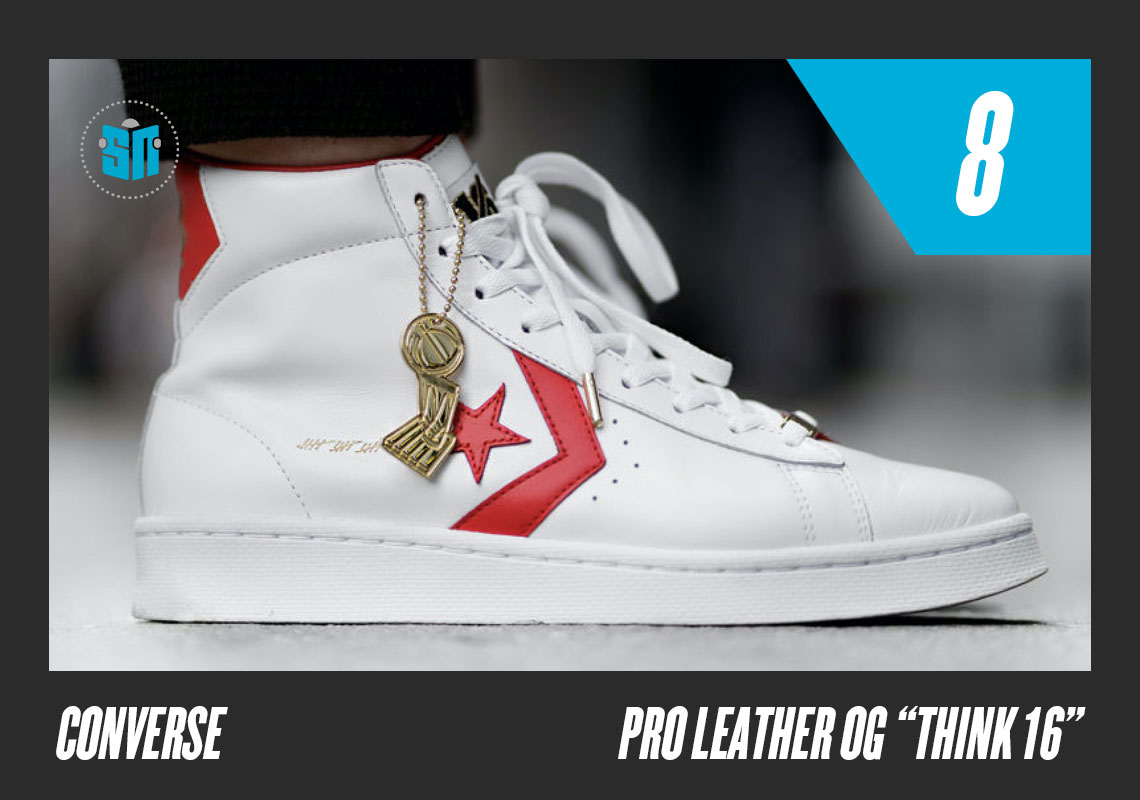 8. Converse Pro Leather "Think 16" Julius "Dr. J" Irving's under-the-backboard scoop layup is one of the most memorable moves in NBA Playoff History — and a special Pro Leather released as part of the championship-focused "Think 16" pack paid homage to the Doctor's timeless aerial wizardry.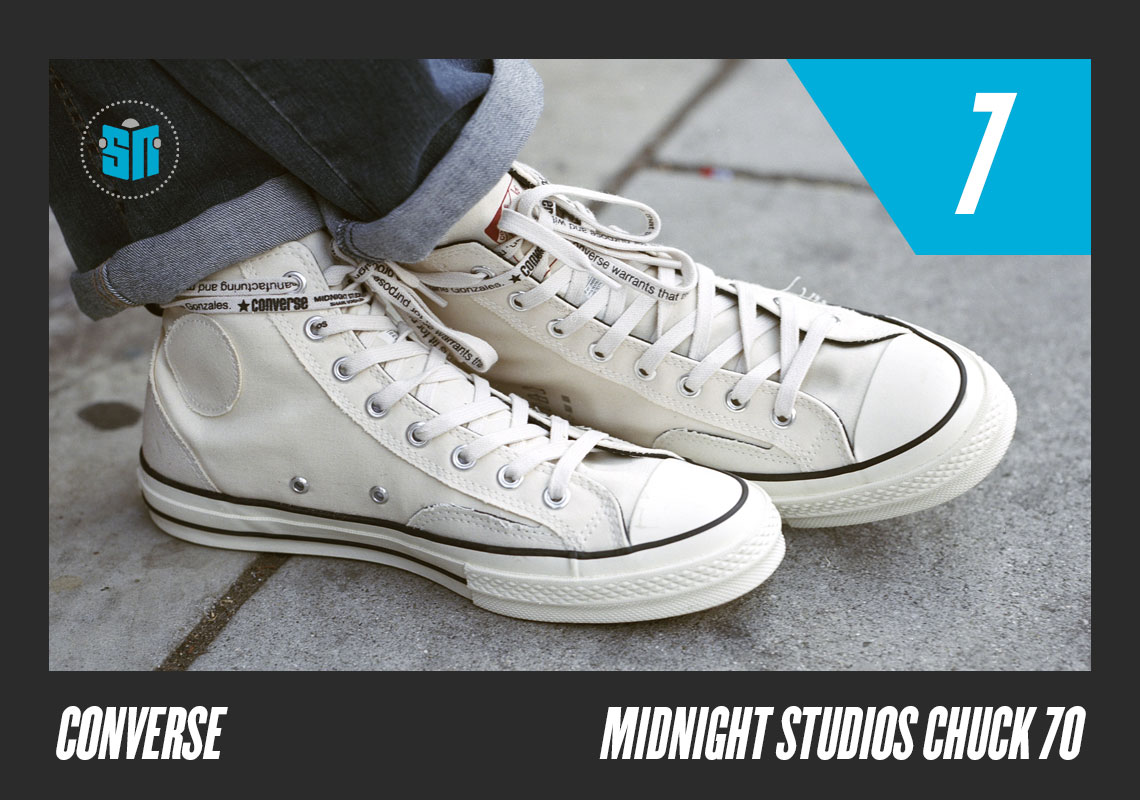 7. Midnight Studios x Converse Chuck 70 & One Star Shane Gonzales's Sex Pistols-inspired designs have brought punk rock style to a new era, and his rebellious ethos is readily apparent on his audacious two pack of collaborative Converse — a One Star and a Chuck Taylor — that literally turns the classic silhouettes inside-out.

6. FOG Essentials x Converse Chuck 70 Fear Of God designer Jerry Lorenzo's brand voice is abundantly clear, and due to that he was able to add his signature special touches like extra-long laces and a heel loop to the Chuck 70 without compromising the shoe's timeless style.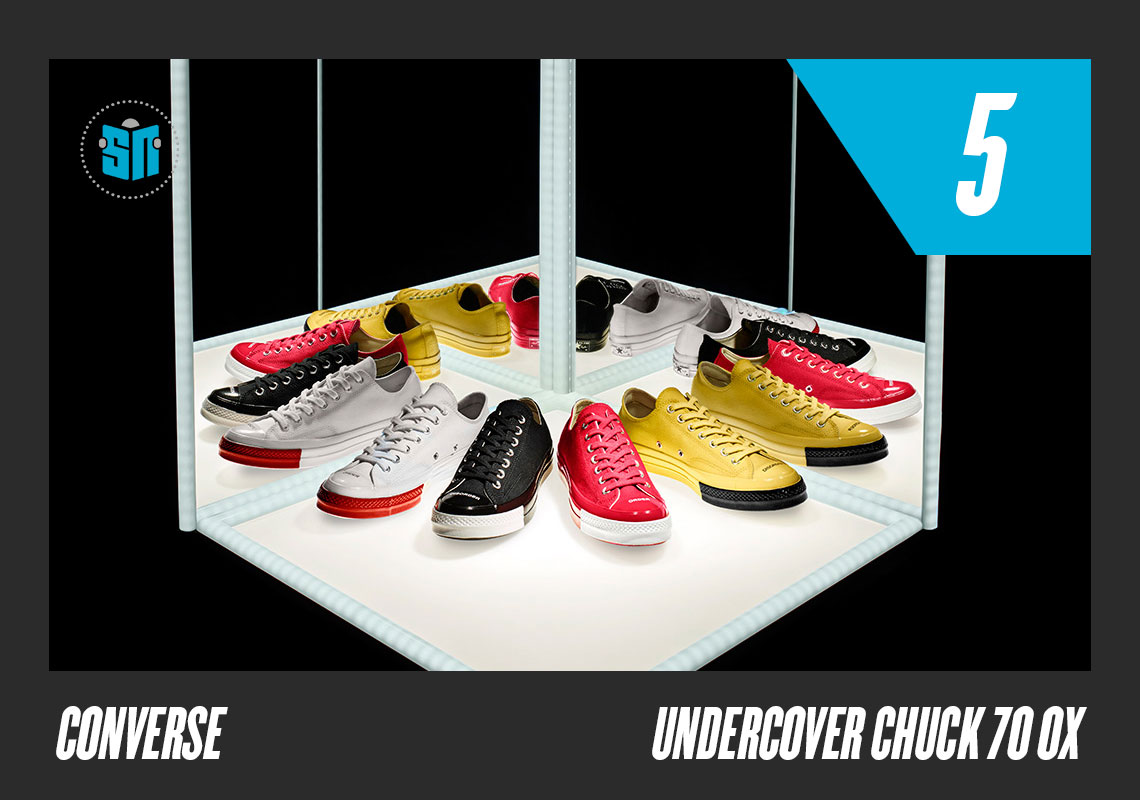 5. UNDERCOVER x Converse Chuck 70 Ox Jun Takahashi's UNDERCOVER enjoyed a banner year in 2018, and their ORDER/DISORDER Chuck 70 Ox four-pack featured a bold glossy look that landed somewhere between street and runway, complete with striking hits on the toe box.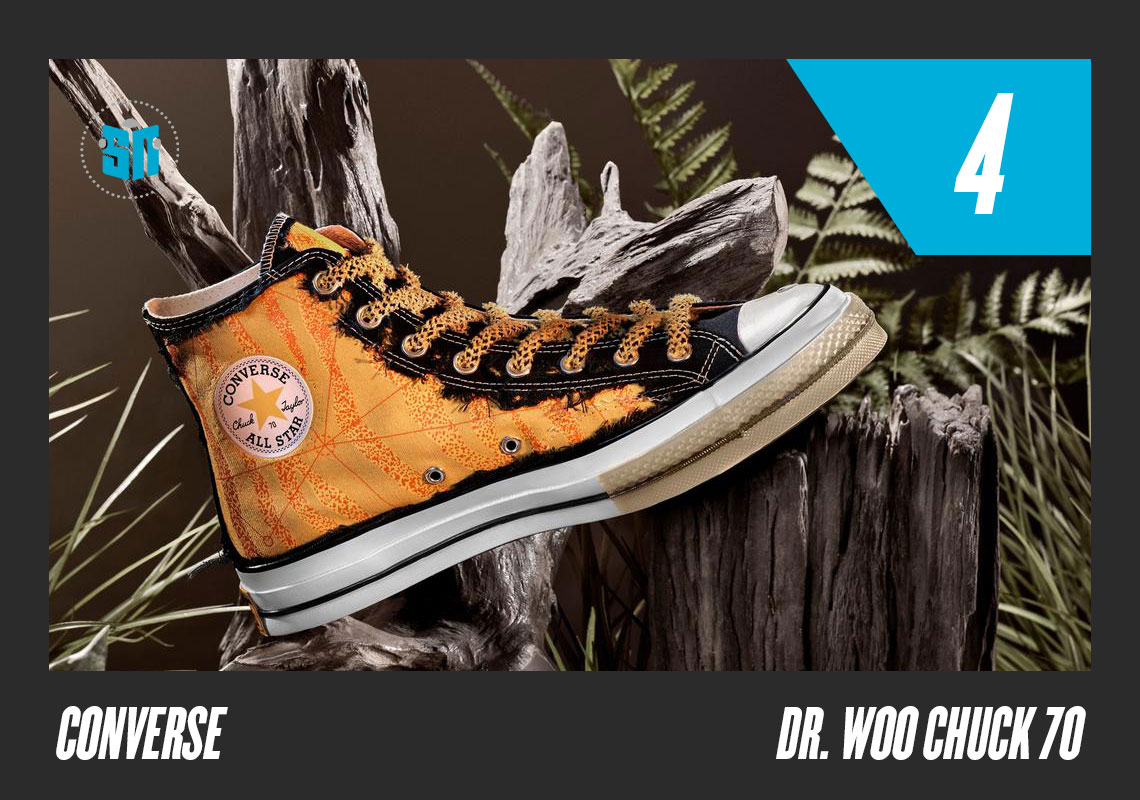 4. Dr. Woo x Converse Chuck 70 As one of the most well-known tattoo artists in the world today, Dr. Woo's work is lauded for its extreme attention to detail. The master of ink showed that he was also able to bring his steady hand to footwear — embellishing the Chuck with a caterpillar-to-butterfly-esque tear-away upper that revealed an entirely new design after being worn enough.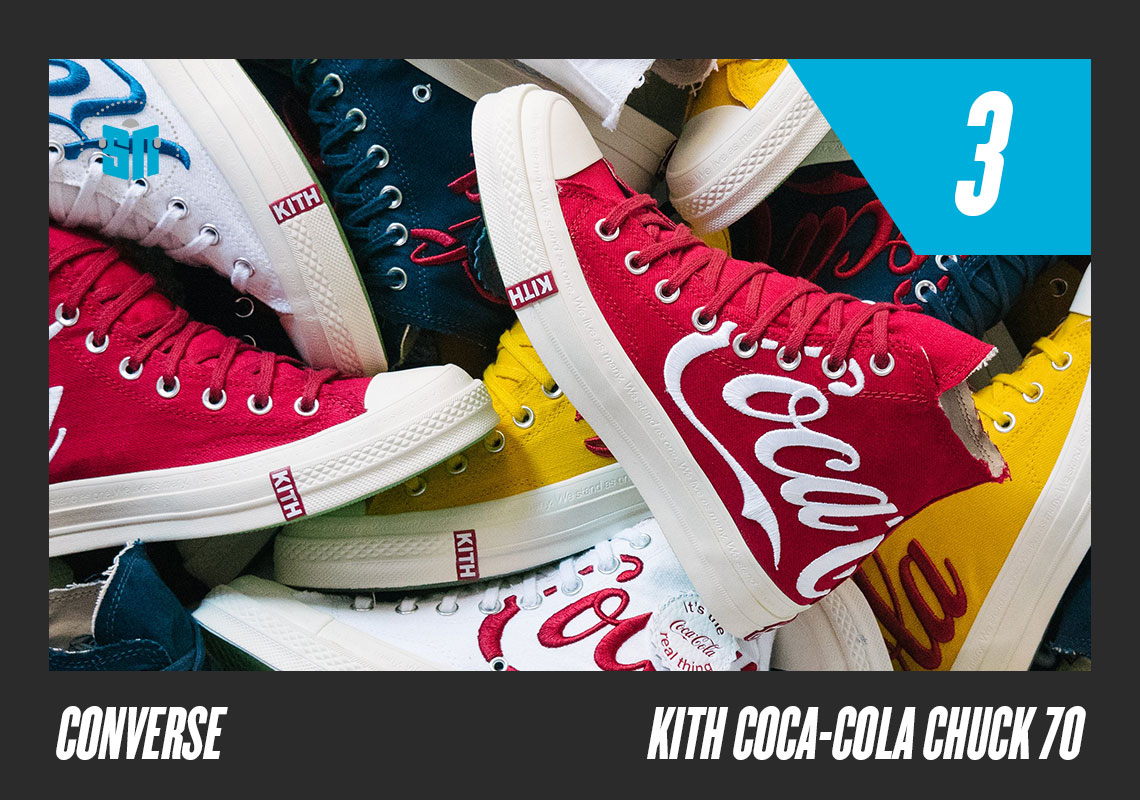 3. KITH x Coca-Cola x Converse Chuck 70 KITH has a knack for presenting instantly-recognizable logos from classic American brands in a fresh new way, and they were able to pull it off once again with their Converse/Coca-Cola collab. Embroidering the flowing Coke logo in languages from English to Russian on the heels, the collab showed how powerful branding truly knows no borders.


2. Off-White x Converse Chuck Taylor "The Ten" Virgil Abloh's original "The Ten" was finally completed when his Chuck Taylor released this year. Part of the designer's "Ghosting" collection, the Chuck featured an entirely translucent upper and midsole — giving the wearer carte blanche to express themselves with their socks — and all the special embellishments his designs have become known for, from the large red zip tie to a healthy dose of bold Helvetica text hits.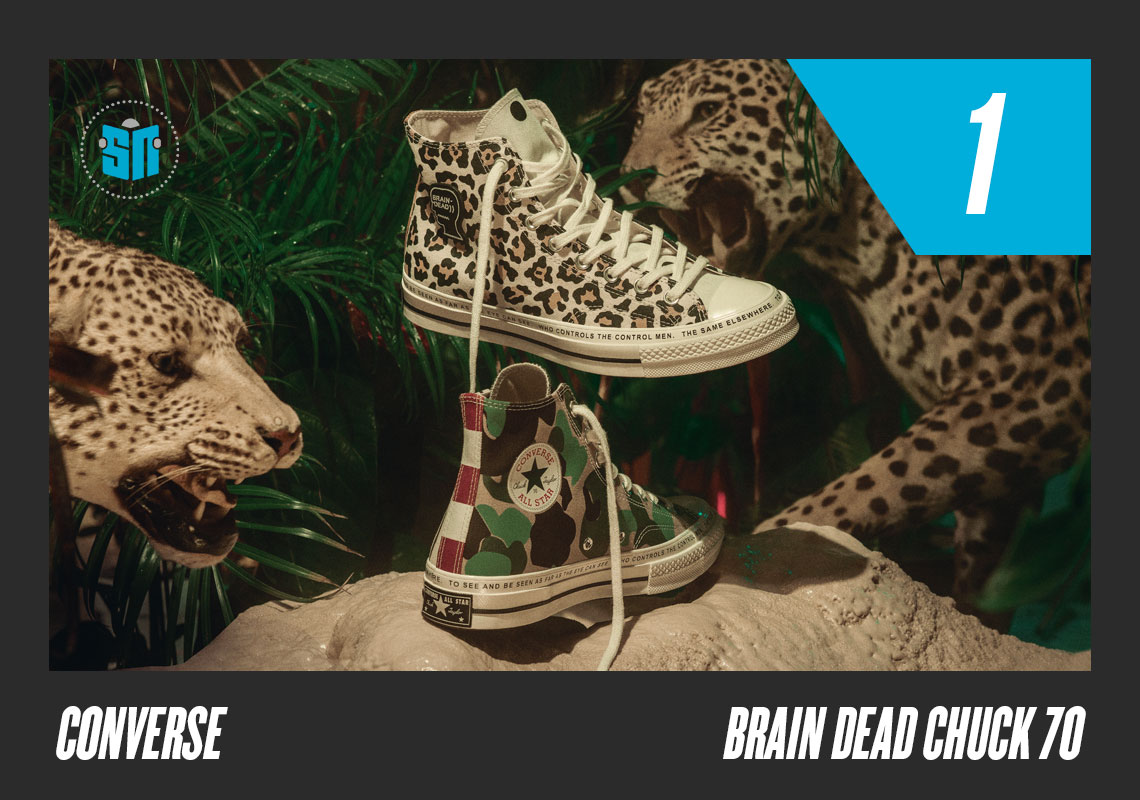 1. Brain Dead x Converse Chuck 70 LA-based Brain Dead dug deep into the Converse vaults for a cornucopia of classic prints with which to adorn their special take on the Chuck 70. From leopard to camouflage, from stars to zebra print, each panel featured a different pattern, making for an absolutely wild mishmash of styles that somehow manages to work together perfectly, creating a masterfully maximalist shoe that's the most head-turning Converse drop of the year.