While there is no official award for "shoe brand of the year", we can safely establish that adidas earned that unwritten honor two years running. 2015 was won off the strength of Yeezy, Stan, and Ultra Boost. 2016 was a runaway W thanks to NMD and the continuing success of the aforementioned silos. Now, adidas enters the crucial third year of this emergence, and it may be the EQT that will help the brand tighten their grip on the game.
During last month's Art Basel, adidas Originals completed the first step of the official EQT re-launch with the release of Pusha T's EQT Boost, a sleek and sexy silhouette bolstered by a pleasing grey-scale colorway dotted with Pusha's signature design cues. He holds a lot of pride of being the face of the EQT line, going as far as saying he wants to "own" the category. With three incredible collaborations already under his belt, it's safe to say that the spot is his to lose.
But if there's someone who can speak more fluently about EQT and the brand as a whole, it's none other than creative director Nic Galway, a 17-year veteran of adidas who not only grew up during the original Equipment era, but spearheaded the relaunch of the category for today's audience. We spoke with him briefly at Art Basel, and as he calmly geeked out about working with the likes of Yohji Yamamoto and Yosuke Aiwaza, he exuded an unshakeable confidence about what's to come.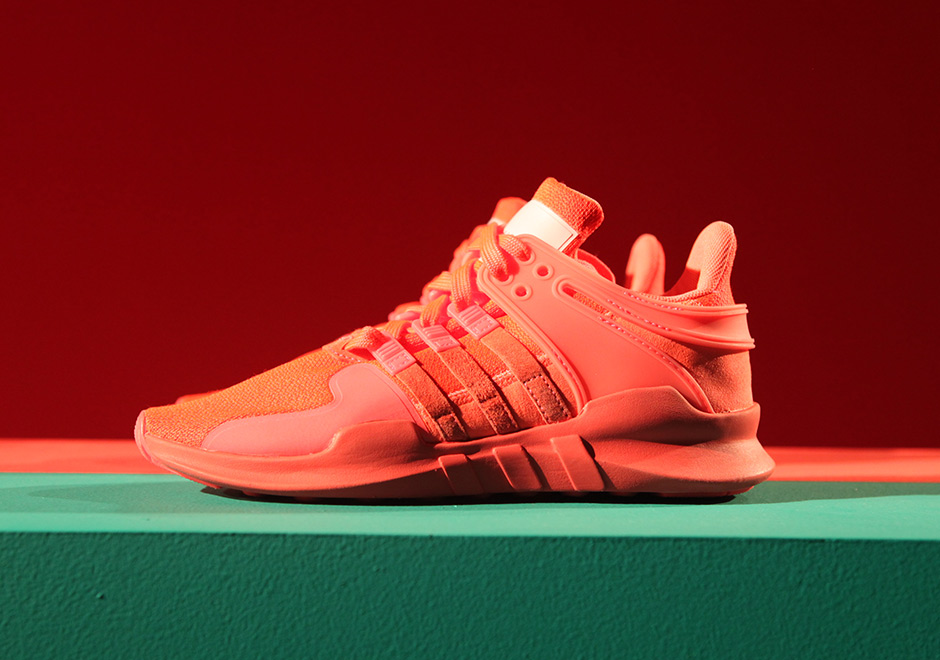 Above: adidas EQT ADV "Turbo Red"
EQT in the 90s and what we see here is vastly different, so there's a bit of a challenge when it comes to informing the uniformed about the history of EQT through these new models. "The designers who created the original EQT line tore up the rule brook. We have to do the same thing." It's less about looking like an older model and more about maintaining the deferential attitude of the design – creating something that was against conformity and focusing only on why it's being created rather than what it looks like.
This is the Equipment for today's sports-conscious consumer. Nic says that like the NMD, the EQT on paper would not have worked in the US or China market if they stuck to "the rules". But the resulting popularity of NMD in those markets just goes to show that adidas was successful in creating the new rules of footwear design. Now, the rules they're breaking are their own.
The all-new adidas EQT "Turbo Red" releases globally on January 26th.