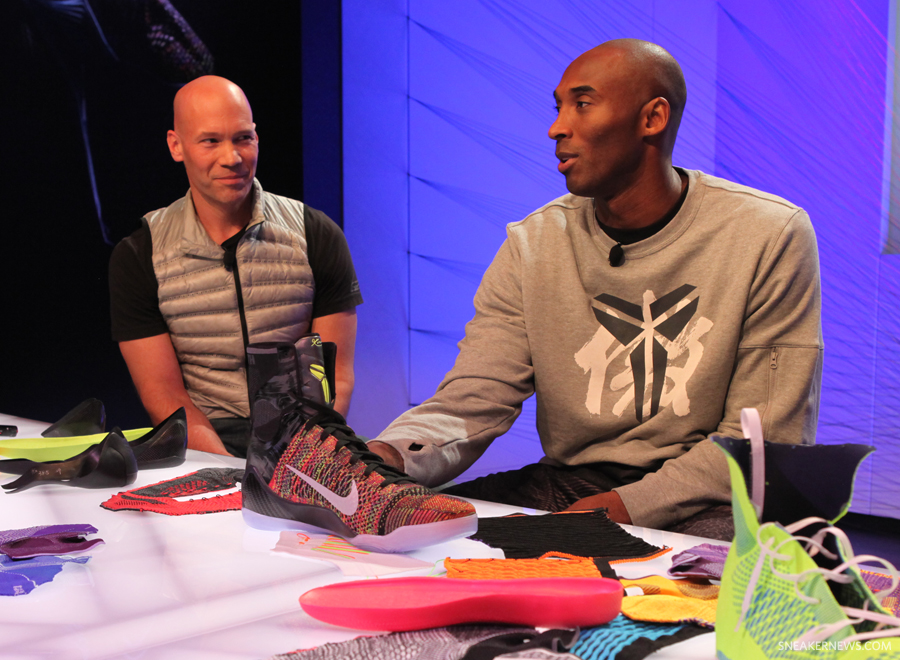 Much of yesterday's major news involved the launch of the Kobe 9 and the Kobe Prelude Pack, which featured guest appearances by Kobe Bryant, Nike CEO Mark Parker, and designer Eric Avar. It makes complete sense that such a gradual and graceful transformation from one phase to another was a reflection of one man's direction, but it's with Parker's vision for the Nike brand and Kobe's insightful suggestions that the Kobe signature line is the exemplar of architectural evolution. Many historians of the brand place Avar on the Tinker Hatfield tier – after all, Eric's been behind some of Nike Basketball's most influential, game-changing, and trend-setting designs in the brand's history. During a Q&A session with select media, the proud architect of the Nike Kobe signature line answered a few questions about the Kobe 9 Elite – all of which we've detailed for you below.
Describe the process of working with Kobe, and why it's so tough.
I wouldn't describe it as tough – I would say it's intense. Obviously Kobe is incredibly intense – very competitive, very detail-oriented. The way he plays the game is the way he wants to be involved in the design and innovation process. What he expects of himself, he expects from us, so it's definitely intense. I'm a competitive person myself, so we just feed off of that – he pushes us.
Can you talk more of the cushion? Was there any discussion of Lunar vs. Zoom?
Yeah, we had a lot of discussions on it. We had some Zoom product and some Lunarlon, and we feel like Lunarlon gives you more responsive cushioning while keeping you lower to the ground. There's also more control of movement when you're lower.
Can you describe how Flyknit was engineered specifically for this shoe and sport?
Primarily, the type of fibers we used were different. We used some non-stretch fibers on the forefoot and the lateral, and more traditional fibers at the mid foot, and made use of more dynamic fibers up to the ankle collar for that dynamic fit. So it really was a combination of the type of fibers and type of stitches – tight stitches at the forefoot, moderate stitches at the mid foot, and simple dynamic stitches at the collar.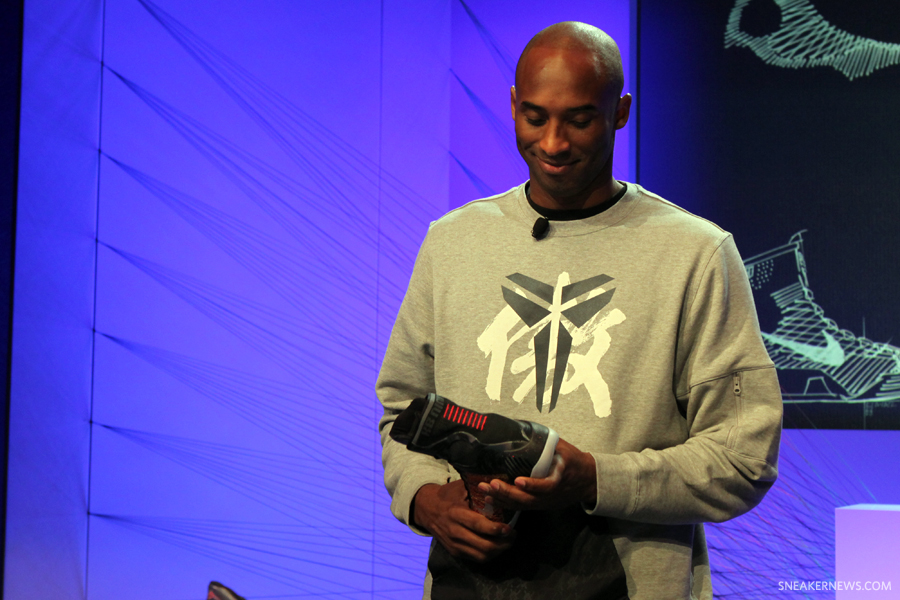 Did Kobe's ankle injury have anything to do with the height?
No. The shoes were in development for over two years.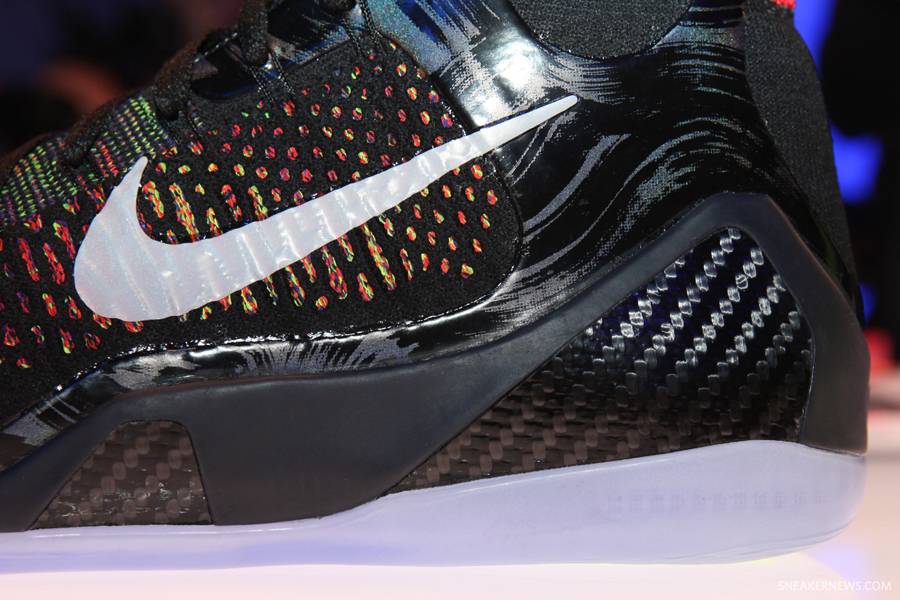 Can you talk about carbon fiber usage on this model as it's gone from beyond a midfoot shank on this version?
Carbon fiber is something we've used in a number of different ways for a number of reasons through the years. We just thought it was appropriate – Kobe mentioned how the heel lock-down was amazing, and we think that's the carbon fiber doing the work.
The Kobe line has been visually striking due to the unique uppers. Is the recent history of the Kobe models in some way convergent towards Flyknit?
We're always looking back to move forward. It was just a natural evolution that took place from the TPU and Engineered Mesh from prior models.