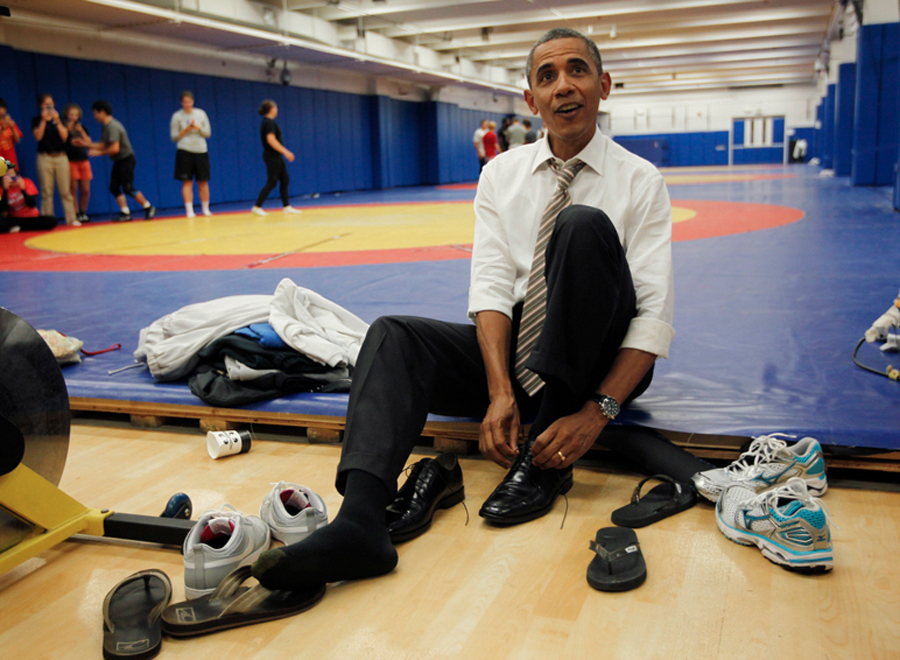 It's President's Day, which means that you're hopefully enjoying a nice day off from work and maybe even brushing up on your presidential history in celebration of our forefathers. If you're looking for some oddball tidbits on our nation's leaders, we've got you covered as we're taking a look back at the past 25 years of presidential sneaker sightings. Keep in mind that you wont be seeing truest definition of "heat" in most instances, because you can't expect the politician crowd to be all up on the latest of hyped out releases.
With that being said, there certainly are some impressive wears within. We're drawing the cut off line at the OG George Bush, as he stepped into office in the late the late 1980s when the game was really starting to get interesting with bright colors and unique technology and engineering. Continue reading to see the sneakers worn by US presidents over the years and then let us know down in the comments who you think has had the best presidential sneaker game.
George H. W. Bush
President George H.W. Bush was the first real deal sneaker president. He wasn't just jogging in general releases either, the man actually had a Nike Air Max 90 player exclusive. Also of note is his stamp of approval on the Nike Air Tech Challenge II "Hot Lava".
Bill Clinton
President Clinton had the 90s runners on lock between his frequent sightings in classic silhouettes like the Asics GT-II and the New Balance 1500. He even had his cabinet decked out – both he and Al Gore can be seen here in the original tonal grey version of the New Balance 997.
George W. Bush
George Bush junior didn't have quite the sneaker game that his father did. He's been spotted in a good lot of nondescript runners, but perhaps his most notable sighting is the above in the original Nike Tour Challenge from 1990.
Barack Obama
Our current Commander in Chief Barack Obama seems to play a lot more basketball than previous leaders, which has definitely affected his sneaker range. The Nike Air Max Elite II TB remains a favorite for President Obama on-court, but the Chicago connection is also there via a handful of Jordan moments.