The global popularity of the NBA and the sport of basketball has been a major factor in the changing landscape of the footwear industry. in 1984, Nike offered a five-year contract worth $2.5 million to Michael Jordan, which at the time was absolutely insane. The next highest sneaker endorsement contract came from New Balance, who blessed James Worthy with $150,000 over eight years. That said, the footwear industry isn't new to these massive jumps in prices, and Jordan's Nike deal definitely set the benchmark of sorts for future deals. Charles Barkley famously said that he had "two million reasons not to wear Reebok", alluding to the fact that Nike generously paid him $2 million (whether it was per year or in total is unclear, although that amount in '92 was huge).
These days, Michael Jordan is earning up to $100 million a year alone in Jordan Brand royalties and guys like Charles Barkley, Penny Hardaway, and more retired NBA guys are still cashing in on re-issues. Contemporary superstars like LeBron James and Kevin Durant bring in hundreds of millions per year and the return from their athletes as brand pitchmen have been absolutely ridiculous; the two stars alone accounted for nearly half a billion dollars in sales in 2013, and that's not counting the aging Kobe Bryant, who has a rabid following in Europe and in China that understandably eats up the Nike Kobe signature line and all the other footwear/apparel that fall under the Mamba umbrella.
Above: Derrick Rose at the adidas D Rose 2 launch
Truth is, every star athlete in the NBA is as concerned with his personal "brand" as he is with winning on the court, and dreams of being "like Mike" continue to ring on, at least in terms of his flourishing business ventures. The race to becoming the next billion dollar athlete wasn't really kickstarted by LeBron or KD, but by Derrick Rose, who signed a massive 13-year $185 million contract with adidas in February of 2012. Those figures, particularly the longevity of it, were unheard of at the time for endorsement contracts, and it didn't take long to prove why; a few months later, Rose suffered a season-ending injury in the Playoffs and suddenly a very visible ceiling was placed above his career potential. Sure, LeBron and Kobe were getting paid more per year at the time, but the guaranteed dollars over a span of what is essentially a player's entire career just wasn't what the brands were looking to do.
Since Rose's big cash-in, sneaker contract negotiations were never the same. Kevin Durant was in the middle of a massive bidding war in the Summer of 2014, and he actually turned down a $300 million + incentives + bonuses + an actual community center named after his mother to stay with Nike, a brand that has been with KD since his teenage years. Steph Curry, who is being paid chump change in comparison, is bound to cash in with a career-spanning contract after his fairytale season put the brand on the map for good. James Harden, unquestionably a talented player, will have secured himself $15-16 million per year after retirement. It's the sheer length of the contract that forced Nike to pass on an athlete that has promise as a pro-athlete but (arguably) not as a marketable public figure.
Above: Derrick Rose suffers torn ACL during 2012 NBA Playoffs
Above: James Harden, who agreed to sign on with adidas for $200 million over 13 years
So will it ever change? Not anytime soon. Because of Nike's success, Under Armour and adidas will be forced to pay out these massive contracts to lure them away from the glitz and glamour of Beaverton. Andrew Wiggins, D'Angelo Russell, Jabari Parker – these are all athletes drafted in the last two seasons alone that might get offered nine-figure contracts to wear shoes and make a few appearances a year, and as
long as brands are offering and athletes are accepting, there's no reason why the next future star will turn down the opportunity to set his family and its forthcoming generations for life. Nike fully understands that athletes simply cost more, but will continue to rely on innovation/products/marketing over overpaying just to keep them from a competitor.
Above: Kanye being Kanye
So what exactly is adidas doing? We're not sure if even the brand knows what its doing. On one side, you have a fairly impressive stable of athletes, yet they are backed by lackluster shoes. On the other, you have the Originals side ushering in hip-hop superstars to market their retro product that simply isn't in tune with the American consumer. The fact of the matter is that the product is what speaks the loudest at the very end and on that front, adidas is getting by with a whisper. Kanye West helps the brand make headlines here and there, but outside of the Yeezy Boost and the Ultra Boost (one of the best shoes of the year), are consumers truly swayed to the stripes because of 'Ye?
The fact that Skechers and New Balance sold more footwear the first half of the year than them says "no" rather loud and clear. And despite a 37% increase in sales after Q1 thanks to the Kanye/Pharrell partnerships, celebrity partnerships do more for brand hype rather than product sales. We'll be first to say that $200 million is nearly impossible for anyone to turn down and we're glad Harden got his. He's set for life and despite how much more impactful a Swoosh is, the dollars make more sense. But if the brand doesn't make the necessary internal changes to the footwear design team, their return on this rather ridiculous contract is will be minimal and Nike's next guy will be raking in the dough while making considerably less.
Above: Chart detailing Q1 footwear brand share in United States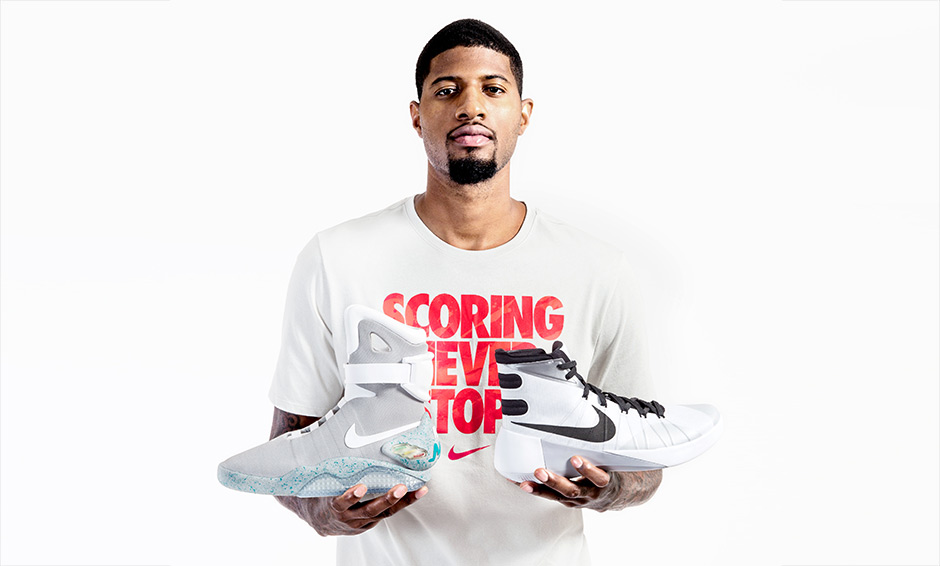 Above: Paul George with the Nike Mag and Hyperdunk 2015 (Photo: Digger)
Another question that must be asked: what does Nike do with the loss of James Harden? We can't help but draw a parallel to Steph Curry, who jumped to UA when Nike refused to match their offer. Letting Curry go is a thorn on the brand's side, but the Swoosh already had a future in sight with Kyrie Irving, who is a bonafide elite player (if he keeps healthy) with a widely popular signature shoe in the Kyrie 1 that debuted in December of last year. In addition, Nike's plans with Pacers forward Paul George are now in motion now that he's recovered.
The question is – will PG or Kyrie or any other young athlete currently on the Nike stable be able to turn down a massive nine-figure contract when it comes to that point? Will adidas America be profitable enough to even throw these insane numbers out there in the future? Can adidas make another low-cut basketball shoe for Harden that doesn't look like the D Lillard 1, Crazylight Boost Primeknit or CrazyQuick 3? We can't say we expect much.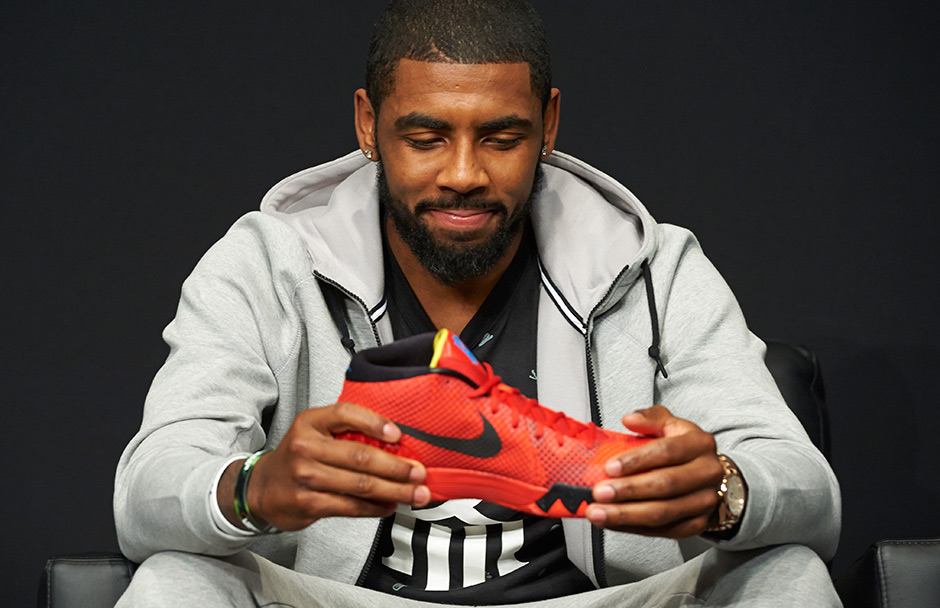 Above: Kyrie Irving at Nike Kyrie 1 Launch Event in NYC